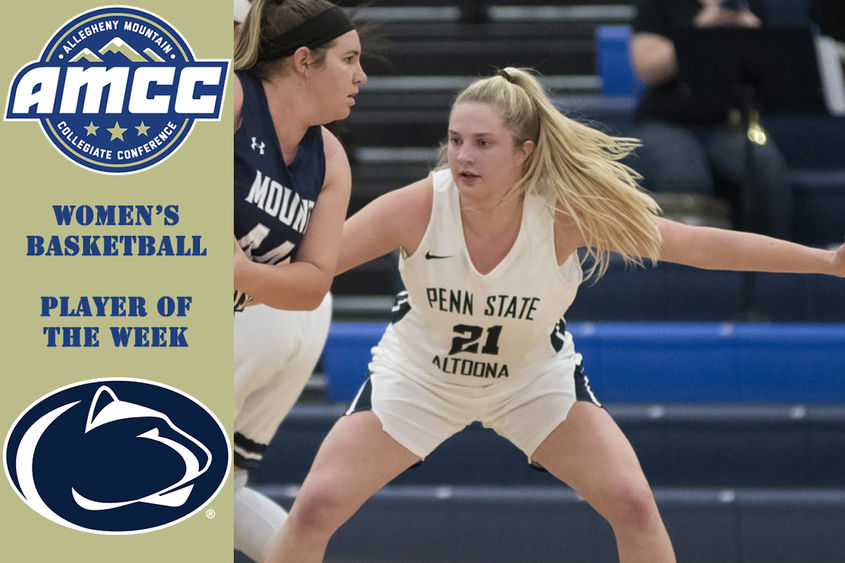 NORTH BOSTON, N.Y. – Penn State Altoona women's basketball's sophomore guard/forward Alexis Cannistraci (Tyrone, PA/Tyrone) was selected the Allegheny Mountain Collegiate Conference's Player of the Week on Monday, January 7, 2019.
Cannistraci continued her excellent play for the Lady Lions last week in a pair of AMCC wins.
In Thursday night's home victory over Franciscan University, Cannistraci scored 15 points to go along with seven rebounds, two assists, and two blocks. In Saturday afternoon's road win at D'Youville College, she put up career-highs with 26 points – including scoring the game-winning layup with six seconds left – and 16 rebounds to record her team-leading seventh double-double of the season. Cannistraci also finished that game with three blocks, two assists, and two steals.
On the week, Cannistraci averaged 20.5 points per game, 11.5 rebounds per game, 2.5 blocks per game, 2.0 assists per game, and 1.0 steal per game. In the AMCC, the sophomore currently ranks second in scoring (17.2 points per game) and rebounding (10.2 rebounds per game).
This is Cannistraci's second career AMCC Player of the Week award, with both of those recognitions coming this season.
Penn State Altoona women's basketball is 6-7 overall, including a 4-3 record in the AMCC. The Lady Lions return to action this Wednesday, January 9, when they host conference opponent Pitt-Greensburg at 6:00 p.m. in the Adler Arena.