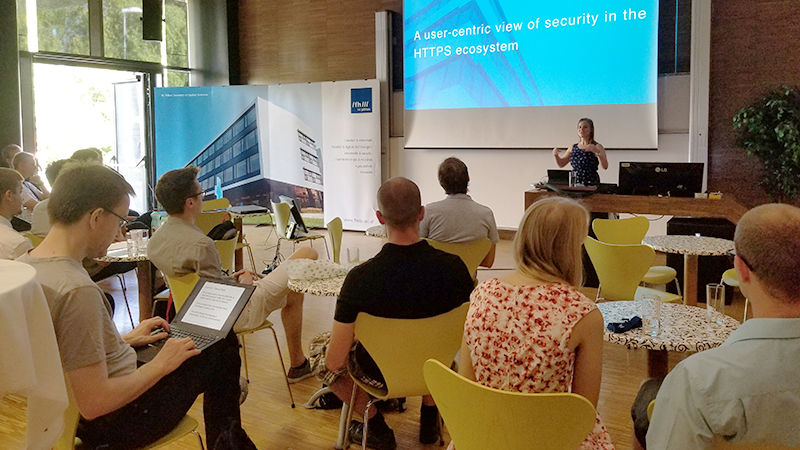 ALTOONA, Pa. — Six Penn State Altoona students traveled to Austria over the summer to take part in the International Conference on Software Security and Assurance (ICSSA). Held this year at the St. Polten University of Applied Science, the annual conference brings industry professionals and academics together to discuss the latest advancements in software security and to consider future needs and protections.
The students, majoring in security and risk analysis, presented papers on topics ranging from vulnerabilities for smart devices connected to the internet to smartphone security.
Shakir Campbell and Kieran Alden presented on the risks of third-party applications on Android devices. Their research explored existing theories of risk associated with these apps, which are not typically screened for security by Google, and summarized their findings into a framework for how users can evaluate potential hazards.
"Presenting in front of an audience of security researchers and professionals was a little nerve-wracking," said Alden, "especially since our presentation was the last one."
Other Penn State Altoona students presented an analysis of how data breaches are graded, from mild to catastrophic, and introduced an invention that protects cars with keyless entry from hackers. That device is now under patent review.
Jungwoo Ryoo, head of the Division of Business, Engineering, and Information Sciences and Technology at Penn State Altoona and professor of information sciences and technology, helped organize the conference.
"It's great exposure for students and an opportunity to connect with scholars in the field," Ryoo said. "Our students get to meet with researchers, listen to keynote speakers, and build relationships with students from other countries."
Networking with researchers and educators from around the world got Campbell thinking about his educational and professional options.
"I was surprised at the variety of opportunities there are in data security and risk analysis. I didn't realize how many different aspects can be covered," said Campbell, adding that, thanks to his experience at the conference, Europe is now a possibility for an internship or a career.
Penn State Altoona will host the ICSSA this summer.