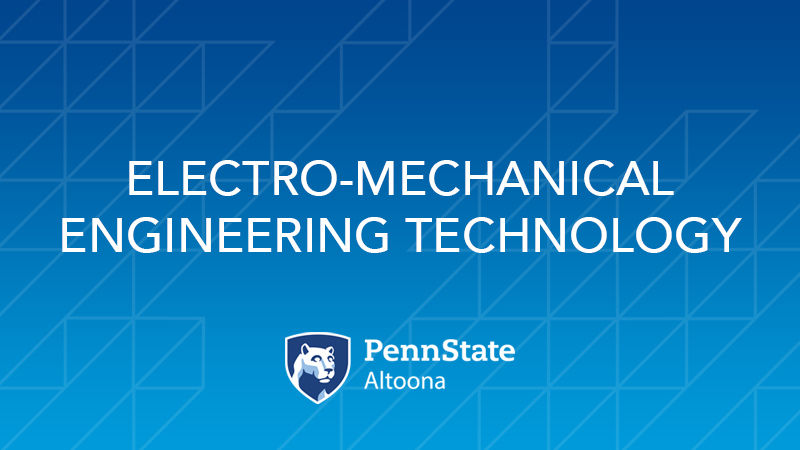 Penn State Altoona's Electro-Mechanical Engineering Technology (EMET) degree program has been reaccredited by the Accreditation Board for Engineering and Technology (ABET), the global accreditor of college and university programs in applied and natural science, computing, engineering, and engineering technology.
"The re-accreditation is a testament for the quality of our EMET major, which is one of the biggest at Penn State Altoona," says Jungwoo Ryoo, professor of information sciences and technology and head of the division of Business, Engineering, Information Sciences and Technology.
Jennilyn Vallejera and Jordan Bittner, both instructors in engineering, spearheaded the effort. They participated in multiple workshops and training sessions hosted by ABET to get familiar with the accreditation process. Vallejera authored the self-study report with a team of faculty members and administrators. "This ABET accreditation renewal took careful planning and years of preparation by our faculty and staff. I had the pleasure of reviewing the report and providing feedback. I can attest to that the report was thorough and exemplary," states Ryoo.
Penn State Altoona has two ABET-accredited engineering programs: EMET and Rail Transportation Engineering (RTE), which is the nation's only ABET-accredited undergraduate degree program of its kind.
Sought worldwide, ABET's voluntary peer-review process is highly respected because it adds critical value to academic programs in the science, technology, engineering, and math disciplines, where quality, precision and safety are of the utmost importance.
Developed by technical professionals from ABET's member societies, ABET criteria focus on what students experience and learn. ABET accreditation reviews look at program curricula, faculty, facilities, and institutional support and are conducted by teams of highly skilled professionals from industry, academia and government, with expertise in the ABET disciplines.
ABET is a nonprofit, nongovernmental organization recognized by the Council for Higher Education Accreditation. More information about ABET, its member societies and the accreditation criteria used to evaluate programs can be found on the ABET site.