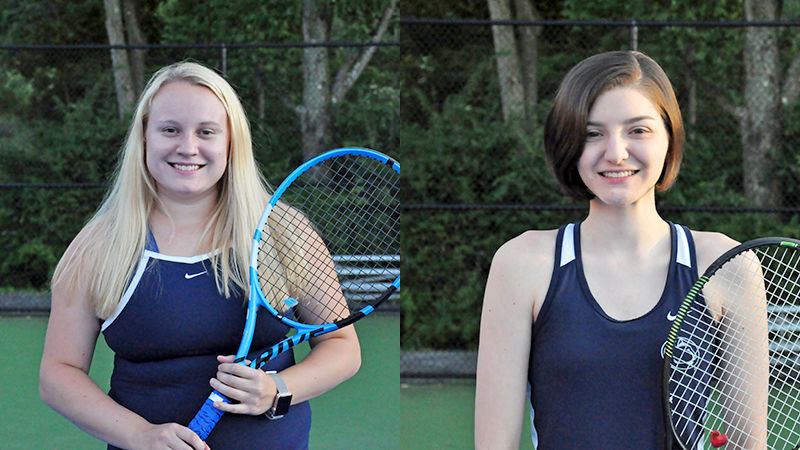 NORTH BOSTON, N.Y.—Penn State Altoona women's tennis senior Victoria Acker (Cresson, Pennsylvania/Penn Cambria) and junior Sophia Girol (South Park, Pennsylvania/South Park) have been voted to the All-Allegheny Mountain Collegiate Conference team, which was announced on Tuesday, Oct. 22.
Acker and Girol were selected to the second team of the All-AMCC squad together for their work as a duo in No. 2 doubles. Girol was also voted second team All-Conference in the No. 4 singles spot.
Acker and Girol combined for an 11-3 overall record in No. 2 doubles matches this season, leading both their team and the AMCC in overall wins in the No. 2 doubles slot. Their total of 11 wins ties the Penn State Altoona women's tennis program's single season record for doubles victories, and it represents a career-high mark for both players. Additionally, Acker and Girol went 6-2 against AMCC opponents in the regular season, with their only losses coming to opponents from the conference's top two teams, Franciscan University and Medaille College.
Girol had a strong season as the Lady Lions' No. 4 singles player, playing 11 of her 16 singles matches in that spot and posting a 9-2 overall record there. Against AMCC opponents in No. 4 singles, Girol went 6-1, suffering her only loss to eventual conference champion Franciscan. In all singles spots combined, the junior posted a 12-4 overall record to lead her team with a career-high 12 wins. Girol's total of 12 wins is the second-most in a single season in Lady Lions tennis history.
This is the first time in Acker and Girol's collegiate tennis careers that either player has been voted to the AMCC All-Conference team. To view the complete 2019 AMCC Women's Tennis All-Conference team, visit the AMCC site.
Penn State Altoona women's tennis went 7-9 overall this fall, including a 4-4 record in the AMCC. As the No. 6 seed in the AMCC's postseason tournament, the Lady Lions pulled off a first round win over three seed Mount Aloysius before exiting in the semifinal round to Medaille.
The team is scheduled to play two nonconference matches during the spring semester, traveling to play Lycoming College on Saturday, March 21 and hosting Grove City College on Friday, March 27.