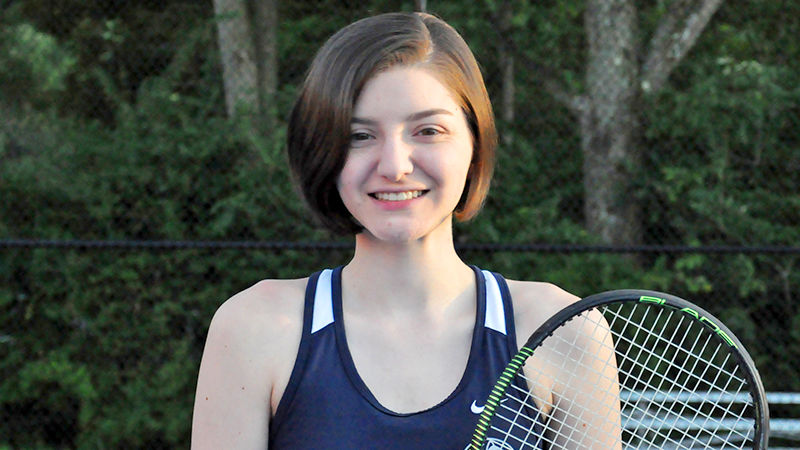 NORTH BOSTON, N.Y. – Penn State Altoona junior Sophia Girol (South Park, Pennsylvania/South Park) was named the Allegheny Mountain Collegiate Conference's Player of the Week in women's tennis on Oct. 7.
Girol had a perfect week for the Penn State Altoona women's tennis team, going 3-0 in singles matches and 3-0 in doubles matches to help the Lady Lions post a 2-1 record against a trio of AMCC opponents.
In Penn State Altoona's 6-3 victory at home over La Roche on Tuesday, Girol prevailed 6-3, 6-4 in No. 3 singles and won 8-1 in No. 2 doubles. In her team's 6-3 loss at Pitt-Bradford on Saturday, she posted a 6-3, 6-3 triumph in No. 4 singles and had an 8-4 win in No. 2 doubles. In the Lady Lions' 8-1 win over Pitt-Greensburg on Sunday at home, Girol earned a 6-3, 6-0 win in No. 4 singles and an 8-2 victory in No. 2 doubles.
Each of Girol's doubles matches were played alongside teammate Victoria Acker (Cresson, Pennsylvania/Penn Cambria).
This is Girol's first AMCC Player of the Week award of her collegiate career. In singles matches this season, she leads her team in overall wins and AMCC wins, holding a 10-4 overall record that includes a 7-1 mark against conference opponents. In doubles play, the junior is tied with Acker for the team lead in wins, as Girol has a 9-5 overall doubles record and a 6-2 mark in the AMCC.
Penn State Altoona women's tennis is 6-8 overall this season, including a 4-4 record in the AMCC. The Lady Lions recently clinched the No. 6 seed in the upcoming AMCC Tournament, and the team will travel to play three seed Mount Aloysius College in a first round playoff match at 1 p.m. Saturday, Oct. 12.
To view the AMCC's listing of its Players of the Week for women's tennis, visit the AMCC website.