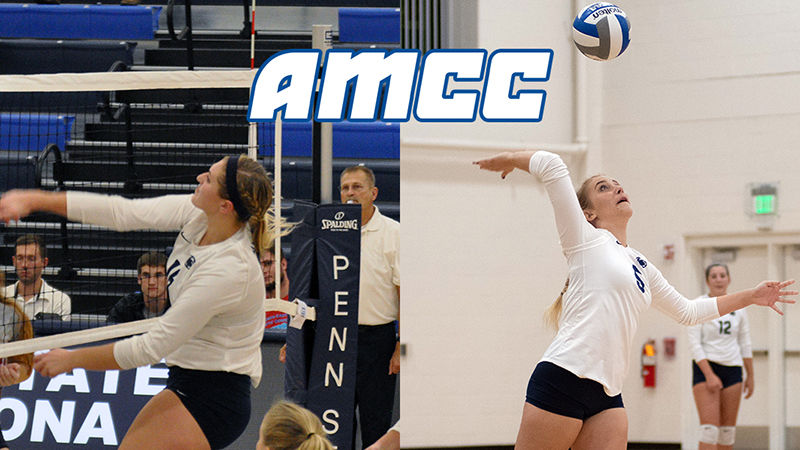 NORTH BOSTON, NY—The Penn State Altoona women's volleyball team was voted into fifth place in the 2019 edition of the Allegheny Mountain Collegiate Conference Preseason Coaches' Poll, which was announced on Tuesday, August 27, 2019.
Pitt-Bradford and Penn State Behrend were voted into a tie for first place in this season's poll. Bradford won the 2018 AMCC Tournament and received the conference's automatic bid to the NCAA Tournament, while Behrend was the AMCC regular season champion by finishing atop the conference standings.
Mount Aloysius College was picked to finish third, and La Roche University was voted fourth.
Penn State Altoona was predicted to finish in fifth place in the AMCC this season, after the Lady Lions also had a fifth place finish in the conference standings last year. In 2018, Penn State Altoona compiled an 8-18 overall record, including a 5-4 mark in the AMCC. The Lady Lions will be guided by head coach Phil Peterman, who is entering his 12th year with the program.
Recognized as "Players to Watch" in the poll for Penn State Altoona this season are senior middle hitter/outside hitter Lauren Diller (Chambersburg, PA/Chambersburg) and senior setter Emily Bryan (Waynesboro, PA/Waynesboro).
Diller returns to Penn State Altoona after spending her junior year at University Park. In 2017 as a sophomore, Diller was one of the top outside hitters in the conference, and she was voted to the first team of the All-AMCC squad. At the conclusion of that season, she ranked fourth in the AMCC in kills (263), fifth in points (301.0) and points per set (3.1), sixth in kills per set (2.74), 11th in digs (335), 13th in digs per set (3.49) and solo blocks (13), and 22nd in total blocks (29).
Bryan will lead the Lady Lions' offense during her senior campaign. In 2018, she played in all 26 matches for Penn State Altoona while contributing 234 digs (2.52 digs per set) and 209 assists (2.25 assists per set), as well as 84 kills, 12 service aces, and 10 total blocks. In the AMCC last season, Bryan ranked 13th in total assists and 14th in assists per set.
Penn State Altoona women's volleyball starts its 2019 season at home on Saturday, August 31, when the Lady Lions will host Chatham University for a match at 12:00 p.m. Later that day, the team will face off against non-NCAA opponent Penn State Shenango for an exhibition match.