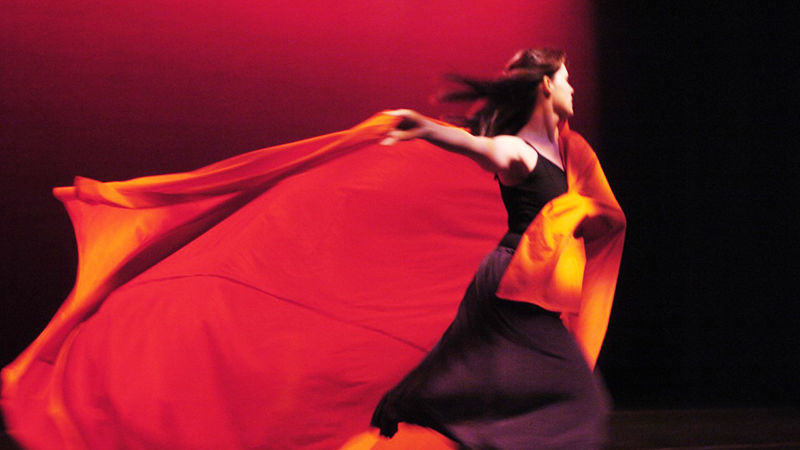 ALTOONA, PA.—On September 7, 2019 at 7:30 p.m., Allied Motion Dance Company returns to Penn State Altoona for their first full-length concert in a decade. Tickets are $5 for Penn State Altoona students and $7 for general admission. Children under 12 are free.
Penn State Altoona's Misciagna Family Center for the Performing Arts will host Back at Last! a full evening of modern, jazz, and contemporary dance, with choreography by KT Huckabee, Caitlin Osborne, and Renita Romasco.
Twenty years ago, KT Huckabee arrived in Altoona to launch the dance program at Penn State Altoona. With her, she brought a professional dance troupe, whose mission was to collaborate with performing and visual artists to bring innovative ideas to the stage. For almost 10 years, she staged work with local artists, such as Joe Servello, Jennifer de Coste, Rick Wertz, Timothy Melbinger, and Dick Caram.
This year, the company has relaunched with a new mission: to create community through the power of dance. Already in 2019, the company has participated in workshops and performances at the Central PA Theatre and Dance Fest and has mounted a one-day festival for local students entitled Day of Dance. In this, their first full-length concert since 2008, they will perform repertory pieces and new work. Company members include current students and alumni of Penn State Altoona's dance program, plus faculty, staff, and invited guests.
The program kicks off with Huckabee's Ragged, a repertory favorite that adds a twist to a classic tale. In this boy-meets-girl story, the couple are supported—sometimes literally—by the inanimate objects around them. What does the lamppost have to say about love? The answer might surprise you!
Also featured is Caitlin Osborne's Sister Cycle, first performed in 2010 and substantially reworked for a 2019 premier. In this heartfelt piece, the choreographer explores her relationship with her sister—her first mentor, chief rival, and best friend. Performed by alumni Danielle Johnson and Cassandra Lewis, with a supporting cast drawn from current Altoona students, this dance takes a journey through alienation and reconciliation that will be familiar to all.
Renita Romasco returns to Altoona to stage a new piece for the company, titled Connections. As Allied Motion's choreographer emerita, Romasco brings decades of experience as a choreographer and teacher to a new generation of dancers. Her new work, dedicated to cross-generational connections, is set on a group of local dancers who participated in an intensive rehearsal period to prepare for the show.
The program has a strong sense of humor. In addition to Ragged, the concert includes Huckabee's suite of dances to the songs of Patsy Cline. With a sly wink at the pathos of the songs, Huckabee finds a way to laugh even as the dancers express the heartbreak of Patsy. Finally, in Pageant, Osborne uses musical comedy style to spoof a familiar event. In a wordless beauty contest, the dancers still find a way to demonstrate their style, talent, and even participate in the interview portion of the evening!
Tickets may be purchased at the box office, Monday–Friday, 10 a.m.–2 p.m. and before and during all performances. For further information, call the Misciagna Family Center for Performing Arts at 814-949-5452.