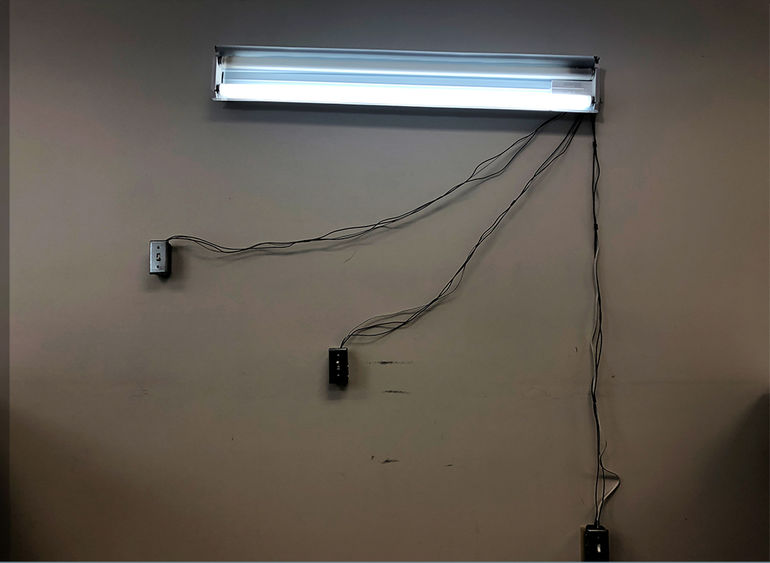 ALTOONA - Welcome Home, a solo exhibition of work by Penn State Altoona student Maddie Quinn, will be on display in the McLanahan Gallery of the Misciagna Family Center for Performing Arts April 19 – 28, 2018. A reception will be held 3:00 - 5:00 p.m. on
Thursday, April 19 in the Titelman Study of the Center.
Quinn will graduate in May with a Bachelor's degree in Visual Art Studies. She works in a variety of mediums but her current focus is installation work. Her work has been shown in previous exhibitions at Penn State Altoona, where she is a two-time recipient of the Fine Arts Award.
Quinn states, "This series of work is about my relationship with my mother and light. I love light and my mother hates it. I have extracted lights and other objects from our home to use in my work. Welcome Home is an immersive and interactive experience that includes sight, touch, smell, and sound. The gallery is a representation of our home. Inside are hallways with my experiences put on display. Welcome Home welcomes you into the experiences and relationship I have with my mother and light."
The Galleries are open Monday – Thursday, 10:00 a.m. – 2:00 p.m. and before and during all performances. For further information, call the Misciagna Family Center for Performing Arts at 814-949-5452.