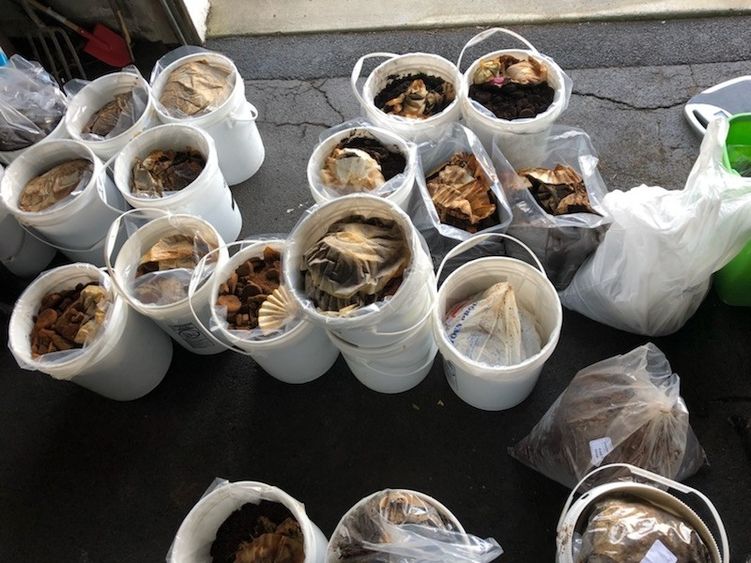 Humans produce about 2.12 billion tons of garbage globally each year.
The United States is among the top garbage-producing counties in the world, with about 250 million tons a year.
At Penn State Altoona, students in the Enactus organization are doing what they can to help reduce the carbon footprint around Blair County with a three-fold waste reduction project.
Part 1: Jazzed about java
Upward of 8 million tons of used coffee grounds get dumped in landfills globally each year where they decompose and produce harmful greenhouse gasses.
But there is a multitude of uses and benefits for those spent grounds. They are a terrific addition to a compost pile. As the grounds break down, they release nutrition in the form of nitrogen, potassium, magnesium, and other minerals. Mixed with other compost material, they also help create and maintain heat inside the pile by providing bacteria a hospitable growth environment.
George Bell has known this for some time. He has worked with several local coffee shops and small restaurants over the last few years to collect their used coffee grounds for upcycling. He composts them for use on his two-and-a-half acre farmstead near Tyrone.
Bell recently connected with Deborah Hommer, who presented his endeavor to Enactus, Penn State Altoona's student entrepreneurship organization, which she advises.
"When the students heard about what George is doing with coffee grounds, they wanted to get involved, Hommer said. "They immediately began brainstorming ways to help."
Enactus member Colin Melley said, "I am very excited to be a part of what George is doing. I wanted to get involved in something that was new and exciting, and with this project, I can see myself making a meaningful impact around the community."
Students decided that their first step was to help with the pick-up of the spent grounds. Melley wrote and received a $1,500 Unilever Bright Future Accelerator grant to support Enactus' sustainability management efforts. A portion of the money went toward purchasing five-pound buckets and bag liners to collect the grounds from places like Green Bean Coffee House, The Clay Cup, and Barnes and Noble in Altoona, along with Mamies Café in Martinsburg, Irvin's in Bellwood, and Penn State Altoona's Port-Sky Café. Between 12 locations, the group is collecting about 3,000 pounds of coffee grounds a month.
Drying the grounds by sunlight alone takes some time, so Enactus members want to apply for another grant in the future to help purchase a rotating drum that Bell can use to dry the grounds more quickly. They also have their eyes on a piece of equipment that turns grounds into pellets that can then be used for fuel.
Students are interested in selling compost, pellets, and fire-starter logs made of spent grounds, but they are also looking into other cool things they could make, like facial scrubs, kitchen cleansers, candles, soaps, and insect repellants.
"My partnership with Enactus thrives on student creativity and their willingness to think outside of the box," stated Bell. "Deb wants to help create a business enterprise, and I value that. It's a good partnership and friendship."
Students are developing connections with other prospective businesses to get them on board, and they may eventually be able to contract a hauler to pick up used grounds.
"This part of our project has grown so much in such a little time, and I think we can take it even further," said Melley. "There are a lot of options and ways for it to grow. It's something that is unique to the Altoona area right now, and I'm so excited about how we can progress."
Part 2: Trash to table
Seventy-two billion pounds of food goes to waste every year around the globe. A second part to the sustainability project Enactus has undertaken is keeping safe, edible food out of local landfills and getting it into the hands of those who are in need.
"Our students work at restaurants, they work at convenience stores and grocery stores, so they see all this food waste first-hand. They wanted to do something to combat this issue," stated Hommer.
Enactus members have created marketing materials with an exhaustive list of items that can be donated. They are reaching out to local restaurants, grocery stores, and retail establishments with perfectly acceptable food items that can be taken to a donation site rather than tossed in a dumpster.
They hope to facilitate the transportation of these items between store and site and are implementing schedules for pick-up and distribution.
Additionally, students are looking into an opportunity to remove milk waste from landfills. Grocery and convenience stores throw out milk three days before its expiration date. That's around 160 gallons of milk each week that can actually be frozen and kept for up to two months. Students want to facilitate the transportation of milk to food banks for families and remove the waste from landfills.
With funds from the Unilever grant, students purchased infrared thermometers and thermal blankets to assist in ensuring fresh and frozen food quality during the transportation and distribution process.
Part 3: Don't waste it! Compost it!
Of course, not all food waste can be donated. Food makes up to 12 percent of the landfilled waste in Pennsylvania. The methane produced by its decomposition in the anaerobic environment of a landfill is also a potent greenhouse gas.
Enactus is working with Blair County's Intermunicipal Relations Committee (IRC) in a pilot program to collect such waste from restaurants and grocery stores for composting.
The IRC received a small grant from the Environmental Protection Agency for the program. Students on Enactus's food waste team are working with Prime Sirloin to pick up compostable food waste and transport it to the IRC facility in Ashville, just a few miles from the Penn State Altoona campus.
At the end of the program, IRC staff and interns will mine data for information such as what is feasible for the organization and the compost facility to handle, what equipment is needed to continue the program, how food waste would affect the composting process, and an idea of operational costs.
"We are anxious to see how much food we keep out of the landfill and how much we reduce Prime Sirloin's waste," says Hommer. "Participating in a long-term project like this means less waste going to landfills, and businesses could reduce tipping fees or be able to use smaller dumpsters."
James Edwards, a business major, is an intern with the IRC and has been working with the food waste composting project. He has conducted research, written news releases, designed fact sheets for the pilot program and an employee guide for Prime Sirloin, and has spoken with some businesses to gauge their interest in participating in the program. He checks in with Prime Sirloin Buffet daily and records their progress in the pilot in Excel. He also assists at the compost facility processing the food waste into the compost rows and cleaning the bins.
"I've enjoyed being given so much responsibility in working with Prime Sirloin in the pilot and am eager to see who else we can get involved," states Edwards. "We've had some unexpected delays and problems arise, but pilots are a great way to gain information on a potential service."
Part 4: "Eat, Sleep, Change the World, Repeat."
Hommer sees each of these three components as long-term projects for Enactus—projects that will allow students to carry out the organization's motto, "Eat, Sleep, Change the World, Repeat."
"We do all sorts of things in our organization, but the students are very passionate about these particular ones. They feed off George's energy and the community interest. As an advisor, that's neat to see. Plus, they are getting a lot of real-world experience by working on these projects."
Adds Melley, "I've lived in this community my whole life, and this is something that is unique we are doing here. It's awesome that there are businesses who want to work with students, and being able to make my own impact by helping them is amazing."
Bell, too, is enthusiastic about continuing his partnership with the students and seeing how far they can go.
"I'm just a dude who likes to garden, but these students are the future and they are doing great things in the community that will have a lasting impact. They are gaining experiences to take with them throughout their careers and lives. I'm happy to be wind in the sails of the young on these great projects."