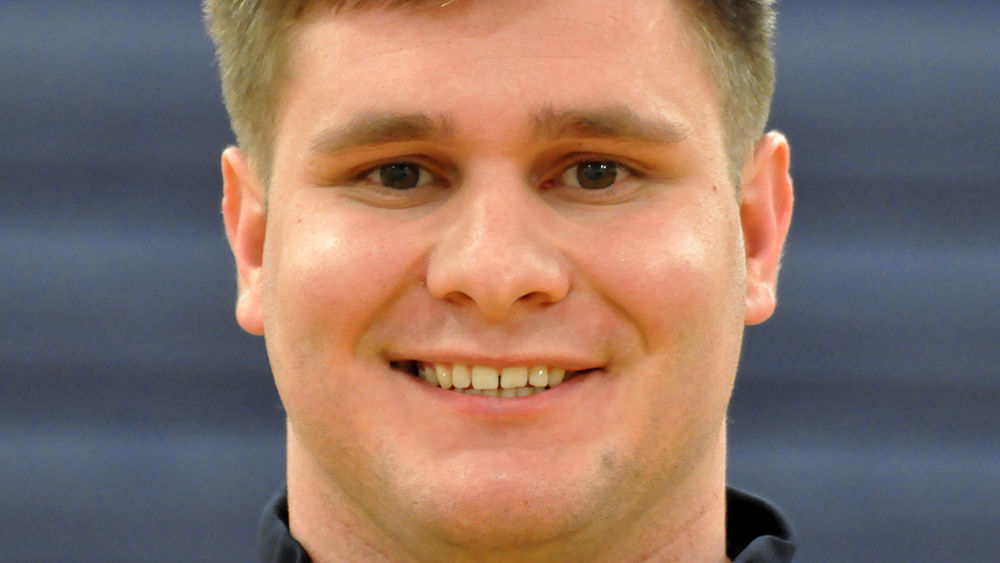 GANSEVOORT, N.Y. - Penn State Altoona men's volleyball player Justin Bannister (Willow Hill, PA/Fannett-Metal) has been selected to receive the 2016-17 North Eastern Athletic Conference (NEAC) Inspirational Award.
Each year, the NEAC honors student-athletes within the conference who have endured personal hardships leading to bravery or dedication within athletics through participation, volunteerism, coaching, or administration. Bannister, who completed his junior season with the Lions this past spring, is one of five student-athletes to receive a NEAC Inspirational Award this year.
Bannister's journey to Penn State Altoona did not begin immediately after high school. Facing the high cost of college to pursue a degree in the health field, Bannister opted to join the military. In April 2011, he followed in the footsteps of his grandfather and father by enlisting in the U.S. Army.
From September 2012 to May 2013, Bannister served in Afghanistan as a combat medic. Stationed at Combat Outpost Herrera, Bannister saw to the medical needs of his unit.
Upon his return to Fort Campbell in Kentucky, Bannister was decorated for his exceptional service, receiving the Afghanistan Campaign Medal with a Campaign Star, the Army Commendation Medal, the National Defense Service Medal, the Global War on Terrorism Service Medal, an Army Service Ribbon, the NATO Medal, and an Air Assault Badge.
Bannister was accepted to the Army Green to Gold Program, which allows a soldier to have his or her tuition and fees covered by the Army in exchange for meeting specific criteria, including serving in the Reserve Officers' Training Corps (ROTC). Bannister decided to attend Penn State Altoona in Fall 2014, as it would allow him an opportunity to earn a Penn State degree less than 90 minutes from his home while joining the ROTC.
During his first semester at Penn State Altoona, Bannister attended an informational meeting about playing for the varsity men's volleyball team. The program had recently made the transition from being a club sport to competing at the varsity level in the NCAA Division III, and Bannister believed that he could help the team as a player.
The 6-3, 225-pound middle hitter was right. In Bannister's freshman season in 2015, he played in all 24 matches and totaled 47 blocks and 89 kills. As a sophomore in 2016, he recorded 63 blocks and helped the Lions to a 10-win improvement over the previous season's record.
Poised to help the Penn State Altoona men's volleyball team to new heights as a junior, Bannister received devastating news in September 2016 when he was diagnosed with testicular cancer. He underwent surgery in November and chemotherapy in December, all while balancing his studies. Bannister's perseverance paid off when he was declared cancer-free in January 2017, and he was in the Lions' starting lineup for their season-opening match later that month.
But Bannister encountered another setback in February, when he suffered a severe dislocation of his left ankle during warmups before a home match. After being taken off the court on a stretcher and sent to a local hospital, Bannister instructed the doctor to not use anesthesia while resetting his ankle so that he could return to the gym to cheer on his teammates.
Once again, Bannister fought past the obstacle. After tireless efforts in physical therapy, he returned to the court on April 1, 2017 and went on to lead the Lions to their first-ever NEAC Championship and a berth into the NCAA Division III Men's Volleyball Tournament. The Lions finished the year with a 26-7 overall record, as Bannister compiled 68 total blocks, 101 kills, and a NEAC-best 0.88 blocks per set.
Bannister joins Lawjen Ashmore (Gallaudet University), Faye Frez-Albrecht (Gallaudet University), Elizabeth Leva (Morrisville State), and Ryan Houghtalen (Morrisville State) as the 2016-17 honorees for the NEAC Inspirational Award.
The complete NEAC release on Bannister receiving the 2016-17 Inspiration Award can be found on the NEAC site.