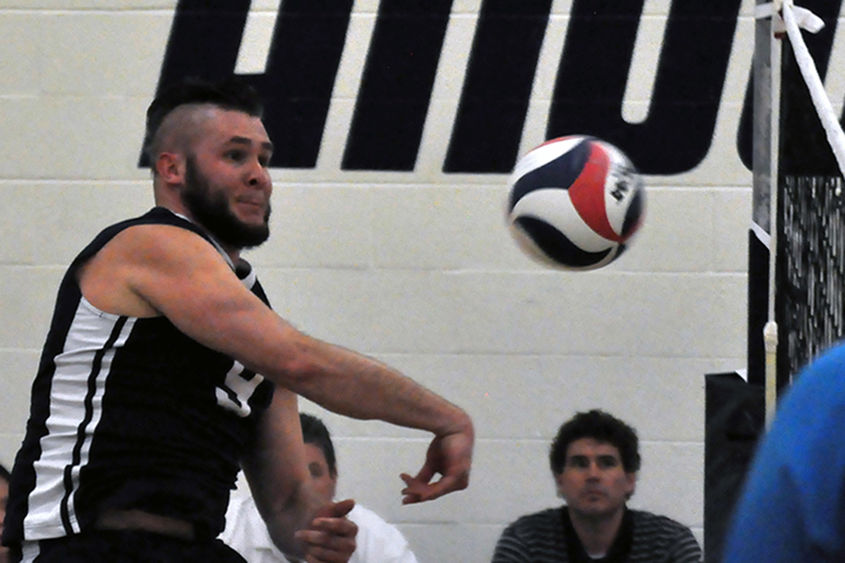 ALTOONA, Pa. — Achieving success in sports is all about overcoming adversity. In the course of a team's season, there inevitably will be trials, tribulations and triumphs. Not every athlete runs track and field, but every athlete learns how to jump over hurdles.
Beyond the realm of sports, a person's achievements are often borne out of his or her response to challenging times. Penn State Altoona junior Justin Bannister is no stranger to being challenged, and he is certainly no stranger to achievement.
Bannister recently completed his third season with the Penn State Altoona varsity men's volleyball team. A middle hitter for the Lions, he uses his 6-3, 225-pound frame to block opponents' hits at the net while being set up for big swings that he can turn into thunderous kills.
"I like the intensity of volleyball," said Bannister. "I'm a very competitive person, and it's just a fun, competitive, intense sport that is also a mental game. Volleyball is one of my stress-killers."
Unlike most college student-athletes who made the jump to that level directly out of high school, Bannister took a different path. In fact, playing college sports was not on his radar. The Willow Hill, Pennsylvania, native was a four-year letter winner in basketball at Fannett-Metal High School, and he was also involved in volleyball by playing pickup games regularly and helping out with the girls' volleyball team at his school. But rather than seeking to continue his athletic career, Bannister was focused on studying in the health field. However, the high tuition cost of colleges and universities steered him in a different direction.
"I looked at colleges and realized it was going to be expensive to find good schools where I could study in the health field, so I decided to look into enlisting in the U.S. Army," Bannister said. "My grandfather and father had both served. I felt like serving would be a good opportunity to get health experience, so I enlisted as a combat medic."
Bannister enlisted in the Army in April 2011 and was eventually stationed at Fort Campbell in Kentucky. Shortly after arriving, his unit began pre-deployment exercises, and Bannister and his fellow soldiers soon learned that they would be shipped off to active duty in Afghanistan.
"I kind of expected to be deployed at some point in my career, with combat medics being in high need in Afghanistan. Once I got to Fort Campbell, we were preparing to deploy overseas just in case, but then we officially got the call," he said. "I was nervous, obviously. But I had built a good bond with everyone I was training with at Fort Campbell. I felt prepared, but anxious."
Bannister's service in Afghanistan began in September 2012. His unit was stationed at Combat Outpost Herrera, located in the east Paktia province of the country. On a daily basis, Bannister saw to all of the medical needs of his unit, from helping conduct a variety of treatments to administering routine medicine to his troops. But life in the Army while stationed in Afghanistan was far from routine, and Bannister's unit experienced many dangerous situations.
"When you're thrust into danger, it all goes by really fast. But your adrenaline kicks in and you do your job, not thinking about much else," he explained. "Afterward, you calm down and think of what just happened alongside all the guys you're deployed with. But in the moment of it happening, it's just all about making sure you get your battle buddies back and getting the mission done."
"Working as a combat team in Afghanistan is the pinnacle of teamwork and cohesion. It's all about being a part of something bigger than yourself in order to accomplish the mission."

— Justin Bannister, Penn State Altoona student-athlete and Army veteran
Bannister experienced his unit working like an ideal sports team, with all the individuals pulling together as one to succeed in the task at hand. But when coping with the rigors of life in a combat zone, the stakes are higher than simply winning or losing a game.
"Being a medic, one of the biggest things is knowing your fellow soldiers and being able to work as a team with everyone," he said. "Working as a combat team in Afghanistan is the pinnacle of teamwork and cohesion. It's all about being a part of something bigger than yourself in order to accomplish the mission."
In May 2013, Bannister's service in Afghanistan ended. He returned to Fort Campbell, where he was welcomed home by his family. Bannister was decorated for his exceptional service, receiving the Afghanistan Campaign Medal with a Campaign Star, the Army Commendation Medal, the National Defense Service Medal, the Global War on Terrorism Service Medal, an Army Service Ribbon, the NATO Medal, and the Air Assault Badge.
Bannister was ready for his next step. During his deployment, he became interested in enrolling in the Army Green to Gold Program, which provides eligible soldiers with the opportunity to complete a baccalaureate degree and eventually earn a commission as an Army officer. If accepted into the program, a soldier can have his or her college or university tuition and fees covered by the Army in exchange for meeting certain criteria, including serving in the Reserve Officers' Training Corps (ROTC).
"I had talked to some of my superior officers and noncommissioned officers, and they suggested doing Green to Gold to become an officer in the Army," said Bannister. "I threw around the idea and eventually applied a couple months after I got back from deployment."
While Bannister and his unit went through normal post-deployment activities, he began assembling his application packet for Green to Gold.
"I talked to my company commander, battalion commander and brigade commander to see if they would all be willing to nominate me for Green to Gold, and they all said yes," he explained. "I put together the packet, sent it off, and played the waiting game to see if I'd get accepted."
Eventually, Bannister was accepted into the program and honorably discharged from the Army to proceed with the process, and he began looking at potential colleges and universities where he could work toward a degree and join the school's ROTC.
"I became interested in attending Penn State because my stepmother, Melissa Bannister, is a Penn State alum and always talked highly of it and enjoyed her time there," Bannister said. "I also wanted to be somewhere relatively close to home, since I had been away from my family for about four years."
Bannister soon focused on Penn State Altoona. There, he would be located less than 90 minutes from his hometown and could obtain a Penn State degree while joining ROTC. Shortly after enrolling at Penn State Altoona and beginning classes in the fall of 2014, he learned that the campus' third-year varsity men's volleyball program was holding an informational meeting for any students who were interested in playing. Intrigued, Bannister attended the meeting.
"Justin came to the informational meeting and said that he had experience playing volleyball and had been in the military," said Phil Peterman, Penn State Altoona men's volleyball head coach. "He was tall and looked very athletic. No one would believe that he never played club or high school volleyball."
On the young Penn State Altoona men's volleyball squad that was in its early days of transition from the club to NCAA Division III level, Bannister became a veteran presence as a first-year player.
"At first, some of the guys were questionable about me since it was obvious that I was a little older than they were," Bannister said. "But they became really welcoming. They understood what I had been through in the past and what I was capable of doing, so they just kind of naturally accepted me as a leader."
Bannister made an immediate impact on the court for the Lions. In 2015, his first season with the team, he played in all 24 matches and finished with 47 total blocks and 89 kills. In 2016, he increased his block total to 63 and helped Penn State Altoona to a 10-win improvement from the previous season. Heading into his junior season, the Lions volleyball team was viewed as one of the favorites to win the North Eastern Athletic Conference, as the squad was voted second in the league's annual preseason coaches' poll.
"It was scary and shocking. There was a lot of wondering why, because it came out of the blue and wasn't an expected thing. I was diagnosed in September, had surgery in November, and underwent chemotherapy in December."

— Justin Bannister, talking about his 2016 cancer diagnosis
In the fall of 2016, Bannister returned to campus from summer break and was excited for the 2017 men's volleyball season. But his life was suddenly turned upside down when he received some unexpected news: Bannister had testicular cancer.
"It was scary and shocking," he said. "There was a lot of wondering why, because it came out of the blue and wasn't an expected thing. I was diagnosed in September, had surgery in November, and underwent chemotherapy in December."
Bannister juggled schoolwork with cancer treatments, and he also wondered if his promising volleyball career was over. He pushed himself to keep up with his studies while staying healthy, and he was overwhelmed with the support he received from family, friends and teammates.
"Throughout cancer, I tried to stay positive and had everyone helping me, but there were obviously some low times that I had to rely on friends," Bannister admitted. "[Sophomore volleyball teammate] Brad Colditz helped me a lot, talking me through the low times and getting my spirits back up."
Bannister also credits Penn State Altoona athletic trainer Jess Welsh for reassuring him through difficult times and boosting his morale.
"I just tried to be a good sounding board for Justin. Any time he needed to talk, I made sure I was available," said Welsh. "I also offered to take him to doctor appointments when needed. Watching Justin face that challenge was such a rollercoaster ride. It was heartbreaking for me when I learned of the diagnosis."
For Bannister's coach, volleyball was the farthest thing from his mind when he learned of his player's diagnosis.
"I was shocked when Justin told me. I didn't know what to say, and I'm sure my emotions showed on my face," said Peterman. "That's when Justin told me, 'Don't worry, coach. I've been through worse in Afghanistan.'"
In December, Bannister's parents, James and Melissa Bannister, along with family, friends, and volleyball teammates and coaches, threw a surprise party for him. With everyone's support, Bannister was more determined than ever to beat cancer. One month later, he was declared cancer-free.
"When I found out in early January, it was definitely exciting," said Bannister. "My mindset from my time in the Army — being focused and mentally strong — helped me to understand that I could face adverse situations and overcome, as well as the mindset that my parents have instilled in me since I was a kid."
Before long, Bannister was back on the volleyball court practicing with his team. His clean bill of health, coupled with his hard work to stay in playing shape, had him prepared just in time for the beginning of the 2017 season, and he started the Lions' first match of the year on Jan. 20.
Penn State Altoona men's volleyball was off to a great start to its 2017 schedule. Through its first 12 matches of the season, the team was 9-3, including a 5-1 mark in the NEAC. Bannister was also enjoying a breakout year, as he ranked third among all NCAA Division III men's volleyball players in blocks during his team's first 12 contests. But on Feb. 25, another unexpected setback derailed Bannister's season.
"When I saw Justin lying on the court, I thought 'Really? How much more can he endure?'"
— Jess Welsh, Penn State Altoona athletic trainer
During warmups just minutes before Penn State Altoona was ready to play two home matches, Bannister came down awkwardly on his left leg. He immediately went down to the court and was soon surrounded by teammates and staff. The injury was a severe dislocation of his left ankle, and he had to be carted off the court on a stretcher.
"I was mad because I knew that it was a serious injury, and that meant I probably wouldn't be able to continue playing in the season as I had planned," said Bannister. "My second thought was: 'Go get Jess!'"
Welsh rushed from the athletic training room to tend to Bannister before the paramedics arrived. When she saw him collapsed on the court, her stomach sank.
"When I saw Justin lying on the court, I thought 'Really? How much more can he endure?'" Welsh recalled. "I struggled within myself to try to make sense of how he could be dealt two major health issues in just a short amount of time."
Peterman called 911 and tried to reassure his players in the moments before their first of two matches on the day.
"Immediately, I told the guys that it was just dislocated and that he could be back in a week or two, trying to ease the spirits of my team," he said. "But deep down, I didn't believe it and thought that it would be a season-ending injury."
Bannister left the Adler Athletic Complex on a stretcher in front of a somber crowd. But just a few hours later, he reappeared on crutches and re-energized his team while it was playing its second match. At the hospital, Bannister had instructed the doctor to not use anesthesia when resetting his dislocated ankle so that he could return to the gym to cheer on his teammates.
"For one, I was honestly interested in watching them put my ankle back in place because I was a medic," Bannister quipped. "But I also wanted to come back and let the guys know that I was OK. I knew they were pretty worried about me, so I wanted to be able to come back and support them."
The injury was yet another obstacle for Bannister to get past, and once again, he was determined to beat the odds. He worked tirelessly in physical therapy sessions and had numerous doctor appointments. Bannister knew that his team was capable of special things, and he wanted to be on the court to experience those things with his teammates.
"I would say that all of my life experience, in general, has been learning to face adverse situations, and knowing that, if you push hard enough and take the proper steps, you can overcome," he said. "On top of that, everyone pushing me and having faith in me that I could recover and come back helped me tremendously."
"Now I have a platform to help other people. When people are in need of help, I think I can relate to them because I've had to fight through these things."

— Justin Bannister
On April 1, Bannister returned to Penn State Altoona's starting lineup just over one month after suffering what was assumed to be a season-ending injury. The Lions went 7-1 in their next eight matches, including winning the program's first-ever NEAC championship on their home court. The squad proceeded to make its first appearance in the NCAA tournament the following week. It was a whirlwind of success for the team, with Bannister right in the middle of it.
"It was amazing and just so exciting to be able to be out on the court and play with my teammates while we were setting milestones that have never been reached at Penn State Altoona for men's volleyball," said Bannister. "I'm so happy that we came together and let go of our individual wants and needs in order to become a part of something bigger than ourselves."
In every facet, the Penn State Altoona men's volleyball team posted one of the best seasons of any sport in school history. To accomplish those feats, great leadership was required, and Peterman points to Bannister as the chief leader.
"Justin is the heart and soul of my team. He puts in the work every day, leading by example," Peterman said. "Justin is a born leader, and I could never ask for a more effective and respected team captain."
"Justin is the glue that holds the team together," Welsh said, echoing Peterman's sentiments. "His teammates look to him as a leader on and off of the court, and with good reason. He's faced and overcome so many obstacles that have been thrown at him that most people never have to face."
Bannister credits his family, friends, professors and the entire Penn State Altoona community for supporting him and helping him battle through his challenges. But his college journey is not yet complete. Bannister will return for his senior year at Penn State Altoona in the fall of 2017, and he hopes that the 2018 men's volleyball team will be just as successful as this year's squad.
When he looks back at what he has survived — service in Afghanistan, testicular cancer and a severe ankle injury — Bannister knows that each experience has shaped him into the person that he is today, and he hopes to share what he has learned to benefit others. In each scenario, he had no choice but to find a way to beat the odds, and each time, he did just that.
"All of those things have had huge impacts on my life because they're big things that I've had to overcome," Bannister said. "I think they've made me stronger and more diverse in my thinking patterns and abilities when fighting problems. Now I have a platform to help other people. When people are in need of help, I think I can relate to them because I've had to fight through these things."
In the Army, Bannister learned that a strong unit was founded on the individual soldiers trusting each other and working together toward a common goal. When defeating cancer, he showed that the will to win and a strong backing of support are essential to overcome the disease. In working back from a potentially season-ending injury, he displayed the importance of determination and hard work to accomplish something difficult. After each setback, Bannister was rewarded with an achievement that he now cherishes.
"When Justin came out of chemotherapy, he had even more drive to savor life and squeeze out every opportunity to make those around him better," Welsh said. "He views obstacles not as insurmountable feats, but as just another step to achieving his goals."