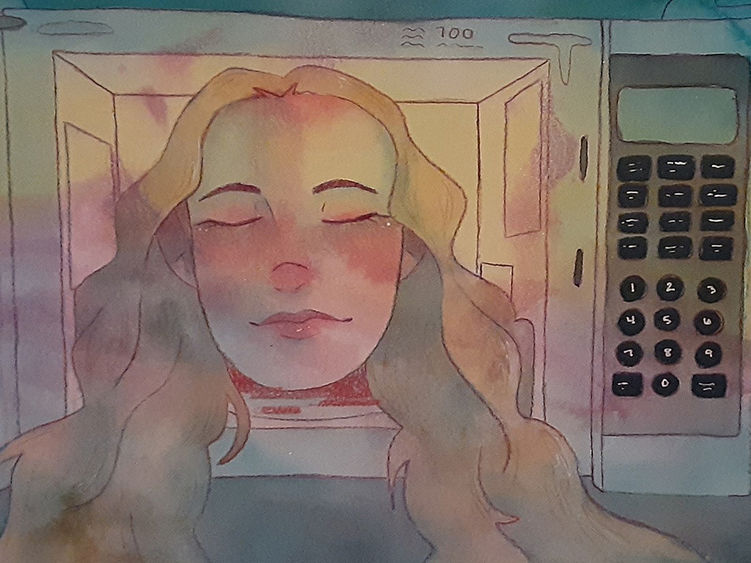 ALTOONA, Pa. — "Good Night, Sleep Tight," a body of work by visual art studies senior Jordan Alwine, will run March 23 through April 2 in the Sheetz Gallery of the Misciagna Family Center for Performing Arts at Penn State Altoona. The exhibition is free and open to the public.
"Good Night, Sleep Tight" features dreams that Alwine has had throughout her life; these dreams are presented in a colorful and detailed style reminiscent of storytelling. She says, "I am always surrounded by a story. I came to realize that my dreams are no different than the shows and books and music I enjoy and that they offer an exciting challenge: I cannot control what happens in my dreams like I can with creating a story."
Alwine is from Altoona. She is expected to graduate in December 2023 with a bachelor's degree in visual art studies. Her focus in art has been developing since her senior year of high school, inspired by fictional storytelling, often of the more fantastical, gruesome, or unsettling kind. This contrasts with the bright colors and mixed media she currently uses in her work. She intends to pursue creating a graphic novel after college.
The Galleries are open Monday through Thursday, from 10 a.m. to 2 p.m., and before and during all events. For further information, call the Misciagna Family Center for Performing Arts at 814-949-5452.