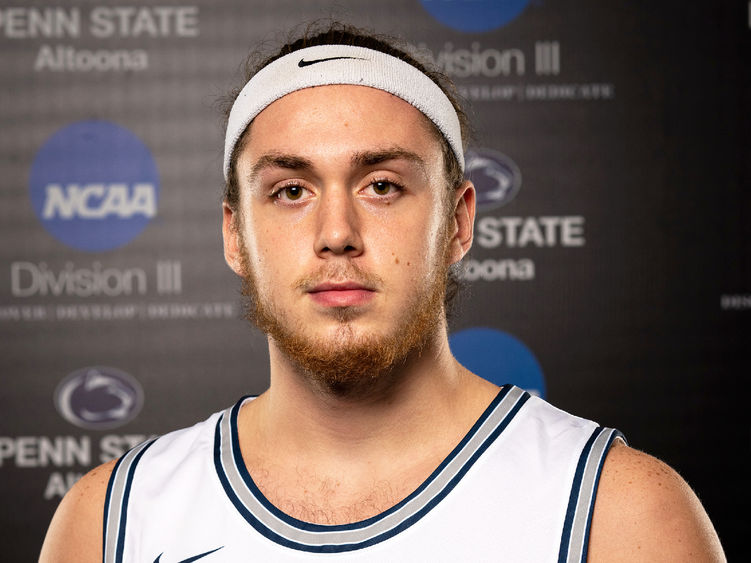 DANBURY, Conn. — Penn State Altoona men's basketball's first-year center PJ Charles (Altoona, Pennsylvania/Altoona) was recognized for his strong play during the month of January, as he was selected as the Eastern College Athletic Conference's Division III South Region Rookie of the Month on Feb. 9.
In seven games last month, Charles averaged 12.0 points per game, scoring double digits in five contests while shooting 53.2 percent from the field and 70.8 percent from the free throw line. He also secured 5.7 rebounds per game.
In 18 games played this season, Charles currently ranks fourth in the Allegheny Mountain Collegiate Conference in offensive rebounds (43), sixth in points per 40 minutes (22.7), seventh in field goal percentage (55.0) and free throws made (75), and 11th in free throw percentage (76.5), total rebounds (109), and rebounds per game (6.1).
Penn State Altoona men's basketball is 16-5 overall this season, including an 11-2 record in the AMCC that has the team sitting in first place in the conference standings. The Lions also became regionally ranked in Region VII of the NCAA Division III on Wednesday, becoming the first team in Penn State Altoona men's basketball program history to become regionally ranked.
The Lions' next game is tonight, Wednesday, Feb. 9, at home against AMCC opponent Pitt-Greensburg at 7:30 p.m.