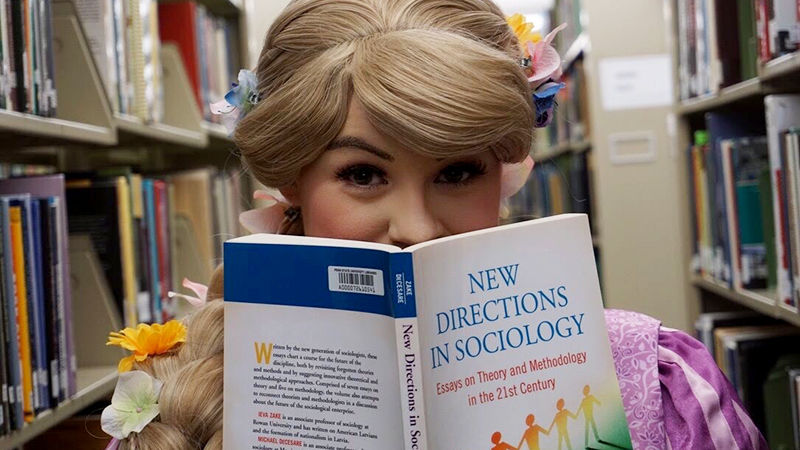 ALTOONA, Pa. — Kristin Newvine, a former Penn State Altoona student, recently published an article in "Contexts," a prestigious sociology outlet for the general public sponsored by the American Sociological Association. The article, "Princessing: The Magic of Impression Management" explores the gig-based, non-commercial industry in which young women perform as princesses in interactive events. Newvine embodies this emerging trend, coined as "princessing."
Newvine attended Penn State Altoona for two years, graduated from University Park, and is now pursuing dual master's degrees in sociology and history at Ball State University.
The article is based on research Newvine conducted at the Integrated Social Science Research Lab as a student at Penn State Altoona with Brooke Long-Yarrison, consultant, and Nicholas Rowland, professor of sociology at the campus. The research was nominated for the University's prestigious Beinecke Scholarship Program. The Integrated Social Science Research Lab currently enrolls a dozen undergraduates and involves former members of the lab now in careers or advanced graduate training. It is co-directed by Rowland and Nathan Kruis, assistant professor of criminal justice at Penn State Altoona.
"I joined the lab under the invitation of Dr. Rowland hoping to understand the princessing community better," recalled Newvine. "The lab has truly molded me into the academic and person I am today. I started as a young undergraduate student who had no path and am now participating in the lab still as a graduate student. It truly brings magic into my life."
"I can see, clear as day, the exact moment Newvine approached me with the idea," reflected Rowland. "It was after class, Intro to Sociology. Newvine told me about a new trend, and, at first, I admit, I didn't quite get it. But I listened closely, and within five minutes, I thought, 'this is genius! This is the next great sociology project.' To me, this publication proves it."
Student projects, including Newvine's, are supported by the University's Engagement Academy, housed under the Student Engagement Network.