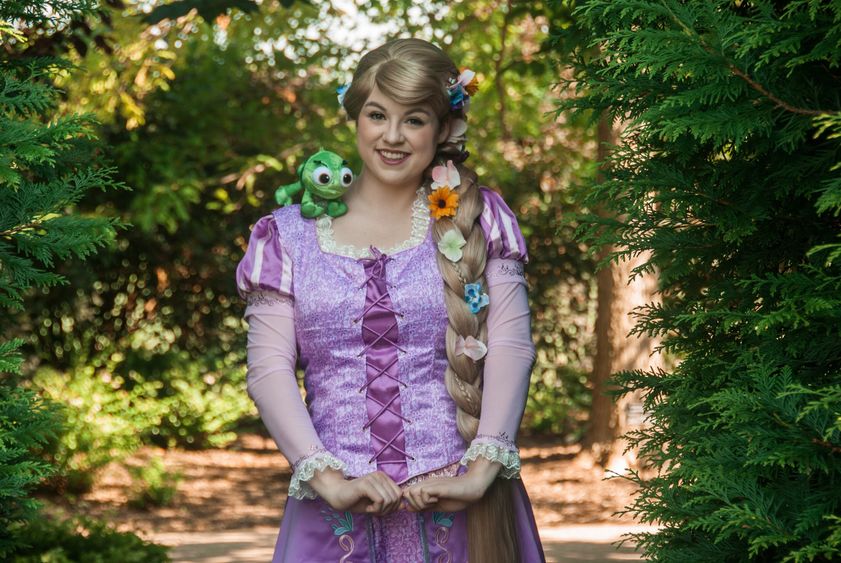 UNIVERSITY PARK, Pa. — A Penn State Altoona student with a passion for the character industry was the University's nominee for the Beinecke Scholarship.
Kristin Newvine, of Hughesville, competed with her peers at Penn State to land the University's sole nomination for the scholarship program, which supports students in their pursuit of research-based graduate degrees in the arts, humanities or social sciences. The junior is majoring in history and minoring in sociology and theatre.
If selected as a Beinecke Scholar, Newvine said she hopes to pursue a graduate degree in sociological social psychology or historical sociology, and has several graduate schools in mind.
"I see sociology as a way to change the world we're currently living in built on the events of our past and that is the path I want my life to take," she said. "This decision was motivated somewhat by my current individual undergraduate research project; that is studying the princess and character industry."
The character industry features performers who dress as Disney princesses and other characters who attend birthday parties and charity and community outreach events, she explained. The research project can be found on Instagram by searching for @pennstateprincessproject. It is under the direction of Brooke Long-Yarrison, an adjunct instructor in sociology.
"I have been the owner and manager of my own character entertainment company for nearly two years and have been a princess performer for almost five, so when I discovered the connection between this integral part of my life and sociology, I realized it was something I needed to spend the rest of my life investigating," Newvine said. "Much of my Beinecke application was based on this premise and my research plan for the next decade or so."
Long-Yarrison said the princess and character industry was fertile ground for study.
"With the phenomenon still fresh and new, there has been virtually no scientific research done on it to date," she said. "Thus, the Penn State Princess Project was born to start the process of a decade's worth of research, into this sociologically rich new social trend, all at the hands of a faculty and undergraduate research team, with of course Kristin as the lead undergraduate researcher."
Newvine said she spent about two months on the application to Penn State. After the University Fellowships Office and nominating committee selected her as Penn State's candidate, Newvine worked with members of the office to revise her written application materials before the national deadline on Feb. 13. Recipients are typically announced in late March.
Long-Yarrison described Newvine as ambitious and dedicated, both to her business and academics. She spoke highly of Newvine's approach to scholarly research.
"She has a respect for learning," Long-Yarrison said. "It's not about the grades — though obviously she excels academically — but for her it's really about learning and engaging with the material. I think she is just an infectious human being through her enthusiasm and her passion."
So far Newvine has been interviewing people from the character industry for the research project, and later this year she will deploy a survey. Long-Yarrison explained the project is looking at the industry from a performer aspect, and builds upon existing social psychological theories from the field.
Newvine's research also is connected to that of Nicholas Rowland, an associate professor of sociology and environmental studies, a member of the Student Engagement Network Faculty Academy, and a faculty fellow at the Schreyer Institute of Teaching Excellence.
The Beinecke Scholarship Program began in 1971 at the behest of the board of directors at the Sperry and Hutchinson Company to honor Edwin, Frederick and Walter Beinecke, the three brothers who ran the company starting in the 1920s. Together they expanded the company and set its course to become a Fortune 500 operation by the 1970s.
Each year, the program awards up to 20 scholarships from among the nominees of about 135 colleges and universities, according to the program website. The awards panel weighs applicants' intellectual ability through academic achievement and seeks college juniors who will be attending a research-focused master's or doctoral program. Students must also be a U.S. citizen or U.S. national from American Samoa or the Commonwealth of the Northern Mariana Islands. Applicants also have to demonstrate a history of receiving need-based financial aid while they were undergraduates.
Students receive $4,000 prior to entering graduate school and another $30,000 while attending school. There are no geographic restrictions to the scholarship. The award must be used within five years.
The last Penn State recipient of the scholarship was Michael Stahl in 2009. Stahl was a classics and Eastern Mediterranean studies major who went on to the University of Notre Dame for biblical studies.
The University Fellowships Office is part of Penn State Office of Undergraduate Education, the academic administrative unit that provides leadership and coordination for University-wide programs and initiatives in support of undergraduate teaching and learning at Penn State. Learn more about Undergraduate Education at undergrad.psu.edu. Sign up for UE Headlines for the latest news.