Spotlight on student science excellence, Latinx faculty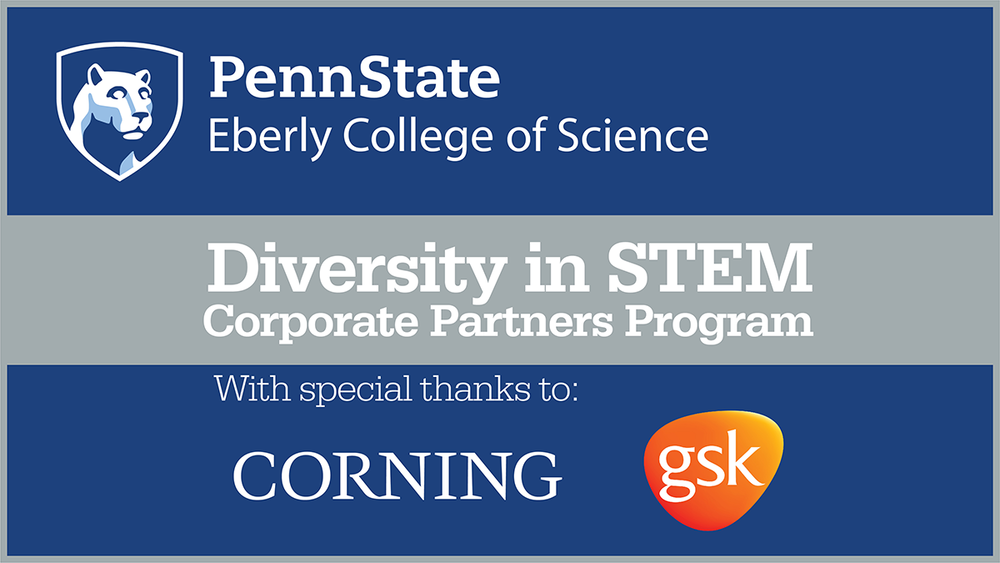 UNIVERSITY PARK, Pa. — On Oct. 7, the Penn State Eberly College of Science hosted the fall 2021 Undergraduate Research Poster Exhibition as part of its new Diversity in STEM Corporate Partners Program and in conjunction with the college's celebration of Hispanic Heritage Month.
Organized and run by Emily Bell, coordinator of undergraduate research for the Eberly College's Office of Science Engagement, the exhibition featured approximately 40 student participants, from whom 10 winners were chosen in three categories.
"It was great to have an opportunity to celebrate the success of these undergraduate researchers," Bell said. "I was thrilled with how many judges and attendees came out to support and engage with the students."
The winners are:
Life sciences
First place
Jalyn Sandiford (biology): "Exploratory Study on the Role of Gas6 in Vascular Inflammation."
Second place
Molly Ehrig (biology): "Effect of Signaling Molecules on Strain Diversity of the Euprymna-Vibrio Symbiosis."
Third place
Jennifer Bekker (biology): "PFK-158 increases migration by promoting lipolysis and fatty acid oxidation."
Peyton Moore (microbiology): "Type VI Secretion System-Dependent Interactions and Diversity in Vibrio fischeri."
Mathematical sciences
First place
Jessica Tomasko (mathematics), Penn State Altoona: "Fibonacci colored compositions and their applications."
Second place
Shravani Samala (statistics), Lydia Bednarczyk (statistics), Tina Tu (statistics), Jiayue He (statistics), Yudan Zhang (statistics), and Adam Poleski (statistics): "R Shiny Research Group."
Third place
Haven Smith (mathematics): "A Probability Density Function for the Products of Greatest Common Divisors."
Physical sciences
First place
Michael Zaidel (physics, astronomy and astrophysics): "Constraining Metastable Very Heavy Dark Matter using the Extragalactic Gamma-Ray Background."
Second place
Lauren Willett (astronomy and astrophysics): "Interpreting Young Stellar Object Accretion Signatures from the VIRUS Spectrograph with a Bayesian Approach."
Third place
Ethan Ritchey (physics): "Development of the Snowball Chamber into a Novel Particle Detector."  
"Many of the competitors had highly rated posters, and several judges mentioned to me the overall high quality of all the research that was presented," said Christopher Palma, the Eberly college's associate dean for undergraduate students. "All of the students did great work, and it was tough to choose only a few winners in each category. Everyone should be proud of the exceptional research they shared with everyone who attended!"
The exhibition was adjudicated by 20 Penn State faculty, postdoctoral scholars, graduate students, and staff:
Tim Miyashiro, associate professor of biochemistry and molecular biology.
Elizabeth Jolley, assistant research professor of chemistry.
Shikha Chauhan, assistant research professor of biochemistry and molecular biology.
David Toews, assistant professor of biology.
Gabriele Monshausen, associate professor of biology.
Ana Carla Chierighini Salamunes, graduate student in kinesiology.
Erica Ryu, graduate student in biology.
Allison Williams, graduate student in biochemistry, microbiology, and molecular biology.
Geovanni Santiago, postdoctoral scholar in biochemistry and molecular biology.
Jordan Bisanz, assistant professor of biochemistry and molecular biology.
Niroshan Siva, postdoctoral scholar in biology.
Wei Chen, postdoctoral scholar in chemistry.
Sean Majer, postdoctoral scholar in chemistry.
William Jeffries, graduate student in chemistry.
Nikola Milicevic, postdoctoral scholar in mathematics.
John Kopper, assistant research professor of mathematics.
Hai Le, graduate student in mathematics.
James Tutt, associate research professor of astronomy and astrophysics.
Wilson Yanez, graduate student in physics.
Tim Gleason, director of the Eberly College of Science Office of Science Outreach.
"I want to thank all of the students, judges, and our corporate partners — Corning and GSK — for participating," said Kristin Finch, the Eberly College's associate dean for diversity and inclusion. "It was great not only to see all of the high impact research being presented by our students but also to add a new element to the event this year by providing students the opportunity to meet with our corporate partners virtually after the event to share their research findings and learn about opportunities in industry. I look forward to continuing this partnership in years to come."