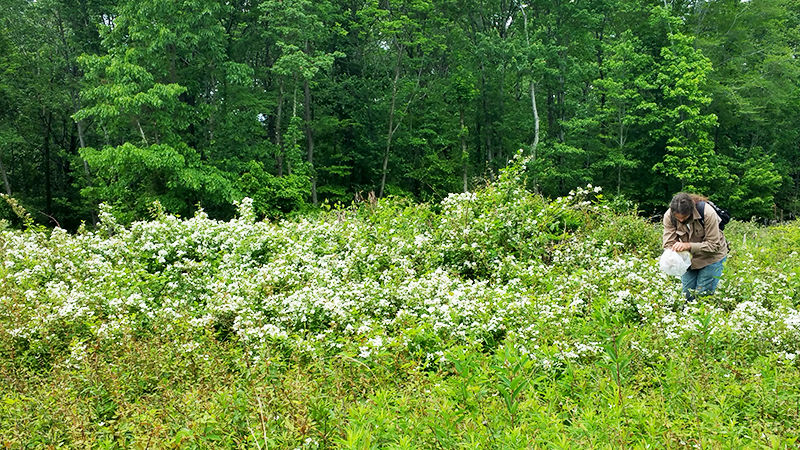 ALTOONA, Pa. — Carolyn Mahan, professor of biology and environmental studies at Penn State Altoona, has been awarded a grant from the nonprofit Tree Research and Education Endowment (TREE) Fund for the expansion of her study on how plants and animals respond to right-of-way management.
Titled "Long term effects of electrical right-of-way vegetation management on floral and faunal communities," Mahan's research project examines how to manage vegetation beneath power lines to minimize environmental effects on animal and plant diversity.
Over the last four years, Mahan has studied birds, plant diversity and bees at three test sites on State Game Lands 33 in Pennsylvania to determine how wildlife responds to selective herbicides used to control vegetation. The additional money will allow Mahan to incorporate ground beetles into the work to assess soil health and address the question of herbicide accumulation in soils.
The project is being conducted in cooperation with the Center for Pollinator Research and the Frost Entomological Museum in the Penn State College of Agricultural Sciences at University Park. It is sponsored by Asplundh Tree Experts LLC; Corteva Agriscience, the agricultural division of DowDuPont; FirstEnergy Corp.; and PECO Energy Co.
TREE Fund is a nonprofit organization dedicated to the discovery and dissemination of new knowledge in urban forestry and arboriculture. TREE Fund awards scholarships and education grants to engage and support the next generation of tree stewards and multiple research grants to improve the science, safety and practice of arboriculture. TREE Fund has provided more than $4 million in in grants and scholarships since its inception in 2002.