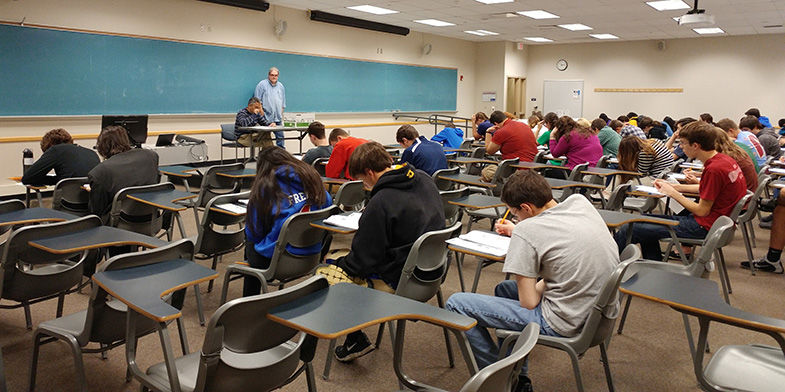 ALTOONA, Pa. — Just because the semester is over doesn't mean academic activity on campus comes to a halt — as proven by the roomful of young people deep in thought and hunched over papers in a classroom at Penn State Altoona one sunny day in May. But these were not college students (yet) — they were high school students from across the area, and they were participating in the annual Senior High Math Competition hosted by Penn State Altoona.
Chris Oliver, senior instructor in mathematics, runs the event with support from other faculty and staff. "We invite all the schools in our region. Then we send practice quizzes to any schools that express an interest," he said. "Four sets go out, one per month between January and April, in both algebra and precalculus, accompanied by solutions demonstrating the way that we would work them out. We encourage the teachers to hand them out and use those quizzes as a tool to decide who they would like to bring to the competition."
Results are always positive: "We get somewhere between eight and 10 schools, with four to eight students" from each school, Oliver said, and "a lot of the time it's the kid pushing the school to come. There's no cost to the school except transportation." High school teachers have to participate as coaches, and those who do often stay involved. "Three or four coaches have done it for 10 years," said Oliver.
The test itself doesn't sound too tough when Oliver says, "We just have a written competition, 20-question test in the morning, one and a half to two hours." Yes, but this isn't addition, subtraction, division ... the questions are algebra and precalculus and extremely challenging. Despite the level of difficulty, according to Oliver, "Every few years we get exceptional students who score a perfect on one of the tests." And no calculators are allowed as "part of the process of training high schools that calculators won't be allowed in many college courses."
This is not MATHCOUNTS, the middle school math competition run by the Society of Professional Engineers, which has regional, state and national competition levels. But many students who participated in MATHCOUNTS in middle school show up for Penn State Altoona's competition once they are eligible. They also, in some cases, return to Penn State Altoona as college students. "Within the last decade, two students who had been here for MATHCOUNTS and then the Altoona competition graduated from Penn State Altoona," Oliver said.
Chelly Pepple, a case manager at Everett High School, is one of the coaches. This year, she had students between ninth and 11th grade attend the competition. Students selected "have to have an interest in math and be high achievers," she said. Everett High has a history of participating in math competitions: "We attend MATHCOUNTS and students who like MATHCOUNTS like this." She said an Everett student who won the regional MATHCOUNTS competition for Blair County now attends the Penn State Altoona competition.
To bring Everett into the high school competition, Pepple said, "I recruited a math teacher. I oversee it and support it. She helps them with the math of it." Students at Everett take "one class period a week to work through the packets and solutions. It gets the students to think about math differently, other than just solving a math problem. It gets them to think more openly and creatively. It's wonderful of Chris and the University to host this," said Pepple.
After the morning test, students were treated to lunch, with food donated by the Sheetz Corporation, T-shirts donated by the Peterson Accounting Group, and a lecture. "Last year's math lecture was an art gallery problem — really fascinating," Pepple said. This year's lecture was by David Hurtubise, professor of mathematics at Penn State Altoona, on the math involved in stitching together a panoramic picture.
After the lecture, the competition winners were announced. Oliver said to the 2016 students, "The test was tough this year. We had some tough decisions to make and had to do some tie breakers in both algebra and pre-calc." That being said, he continued: "I'm very impressed with the scores. The averages were really high. Congratulations to all of you. It was a treat to have you on campus."
Winners, listed below, received gift cards, certificates and accolades from the other participants.
Precalculus
1. Evan Gruss — Portage Area High School
2. Christopher Miller — Richland High School
3. Jonathan Lamar — Portage Area High School
4. Ryan Yaste — Richland High School
Algebra
1. Jake Baumbaugh — Richland High School
2. Daniel Kustaborder — Bellwood-Antis High School
3. Nathaniel Maxwell — Everett High School
4. Hannah Hornberger — Bellwood-Antis High School
Oliver said he has been pleased with the consistently enthusiastic response from the participants. "It is exciting to have so many high school and middle school students who enjoy challenging themselves and who appreciate the beauty of mathematics," he said. "We look forward to these competitions every year."