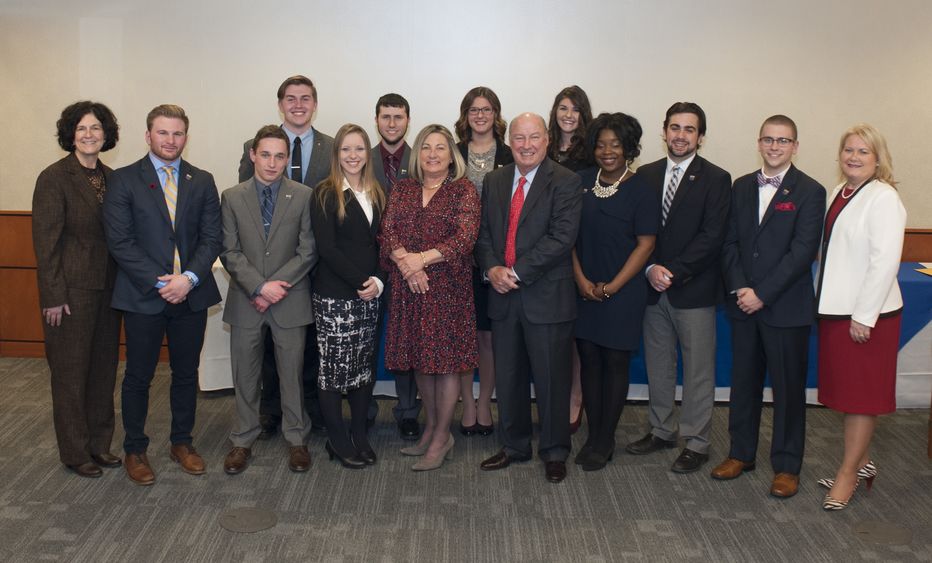 ALTOONA, Pa. — The sixth class of Sheetz Fellows was inducted during a formal ceremony at the Sheetz Center for Entrepreneurial Excellence on Feb. 25. A competitive academic program, the Sheetz Fellows Program mission is to invigorate undergraduate education at Penn State Altoona by providing leadership and mentoring opportunities, academic challenges and resources for students with an entrepreneurial mindset.
Ten students, all from Pennsylvania, were inducted into the program: Beatrice Avege, of Morrisville; Derick Brobeck, of Julian; William Butterfield, of Pittsburgh; Alexandria Galanti, of Hollidaysburg; Andrea Hammer, of Greencastle; Brad Humski, of Horsham; Logan McHale, of Emmaus; Tiffany Reilly, of Altoona; Nathan Vinglas, of Cresson; and Kevyn Wilson, of Warminster. The ten inductees celebrated alongside family and friends, Penn State Altoona faculty and staff, previously inducted Sheetz Fellows, Sheetz Fellows alumni, and founders of the Sheetz Fellows Program, Steve and Nancy Sheetz.
The Sheetz Fellows Program was established in 2009 as part of a historic gift to Penn State Altoona by Steve and Nancy Sheetz and has proven to be a visionary initiative that prepares students for professional, educational, personal, and social success.
Steve Sheetz, a 1969 Penn State graduate and former Penn State Altoona student, encouraged the new inductees to consider their legacies as they progress in the program. Steve also announced during the ceremony that he and Nancy have increased the total award given to each graduating Sheetz Fellow to $10,000. Previously, Sheetz Fellows received $5,000 upon graduation. Sheetz Fellows also receive $3,000 toward travel abroad and $1,500 for a CEO conference, in addition to the numerous leadership and travel opportunities provided to aspiring Sheetz Fellows.
Remarks were also given by Donna Bon, director of the Sheetz Fellows Program; Victoria Liebal, past-president of the Sheetz Fellows Program; and Lori J. Bechtel-Wherry, chancellor and dean of Penn State Altoona.
All Sheetz Fellows are required to maintain at least a 3.25 in-major GPA (grade point average), in addition to completing a concentration in entrepreneurship or an entrepreneurship minor, a study abroad experience, a credit-bearing internship or research initiative, and an ethics course. Sheetz Fellows must also fulfill a minimum of 80 hours of servant leadership.
A unique component to the Sheetz Fellows Program is the Entrepreneurial Mentors Program. Sheetz Fellows are paired with mentors in an effort to provide students with successful entrepreneurial role models to encourage the development of attitudes that result in entrepreneurial success, such as persistence, focus, calculated risk taking, salesmanship and ethical practices, and provide a context for the mentee to discuss and see the real-world application of concepts taught in the classroom.
All students graduating with the status of Sheetz Fellow receive a medallion and special recognition at commencement.
For video and photos from the event, visit the Sheetz Fellows web page.