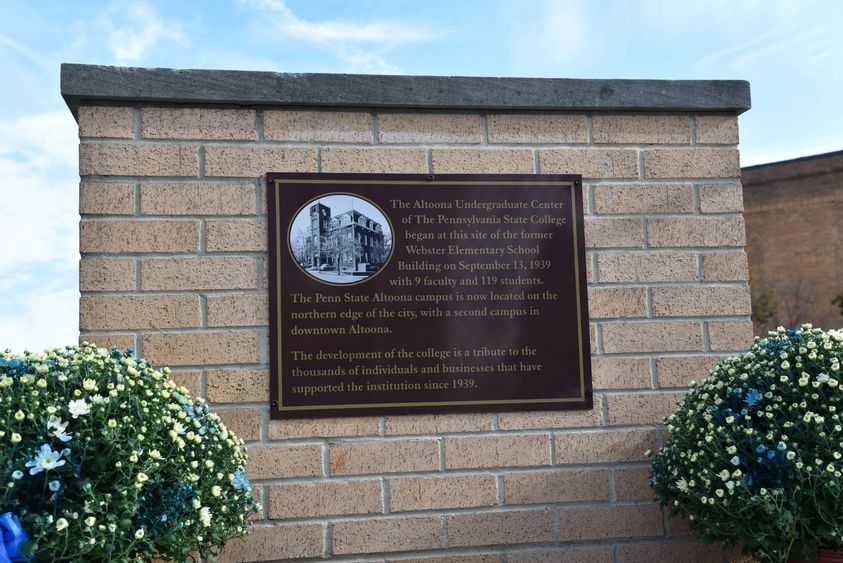 ALTOONA, Pa. — Penn State Altoona continued its 80th anniversary celebration with a plaque-dedication ceremony at the old Webster Grade School Building site in downtown Altoona on Friday, Sept. 19.
It was here that the Altoona Undergraduate Center opened on Sept. 13, 1939, to a class of 119 students. Penn State Altoona founders, led by Ted Holtzinger, chair of the Chamber of Commerce at the time, recognized the vital importance of access to higher education in developing the workforce and promoting economic prosperity in the city and region. Their advocacy and fundraising led to the opening of the center in the former Webster Grade School Building. Their vision enabled the center to prosper, and after WWII, residents of the city came together once more, raising funds to purchase the abandoned Ivyside Amusement Park, now home to Penn State Altoona's Ivyside Park campus.
"While Penn State Altoona has grown significantly since its founding in 1939, one thing has remained constant throughout our 80-year history — the support of our community for our students and college," said Penn State Altoona Chancellor and Dean Lori J. Bechtel-Wherry. "It is fitting that we celebrate our 80th anniversary by re-dedicating this site where it all began."
A new plaque, dedicated during the ceremony, marks the spot of Penn State Altoona's humble beginnings.