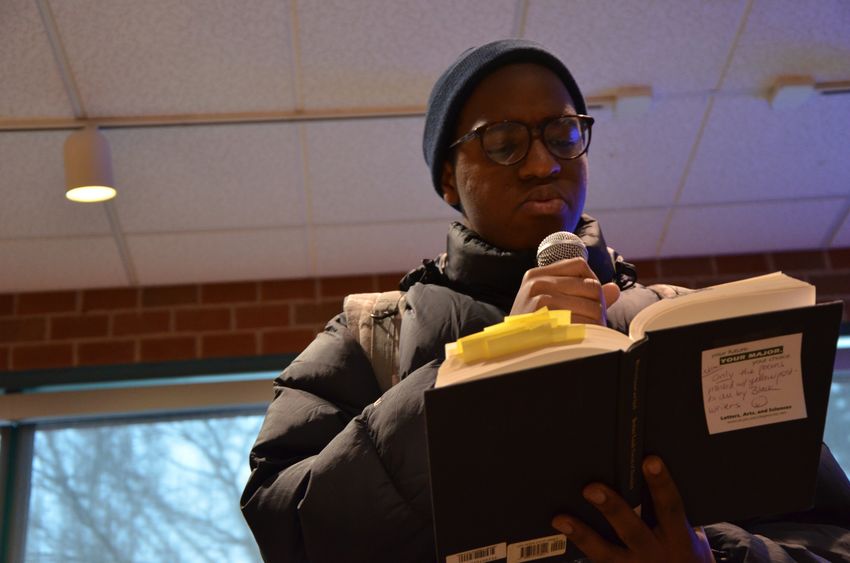 ALTOONA, Pa. — The 28th annual African American Read-In Chain will be celebrated at Penn State Altoona on Feb. 12-13. This year's theme is "Performance," recognizing the vibrant role performance has played in African American arts, literature, history and culture.
Events begin at 2:30 p.m. Sunday, Feb. 12, in the Port-Sky Café with a community gathering featuring literature and a special program component for children ages 5-13. A dinner will also be served. Attendees are invited to share a short reading from a work by an African-American author or just listen and enjoy. Advanced reservations are required. RSVP to [email protected], call 814-949-5280, or register online at http://sites.psu.edu/aareadin/ by Feb.1.
The Read-In Chain continues Monday, Feb. 13 with "Monday Marathon," an Open Mic Read-In held in the Misciagna Family Center for Performing Arts. From 9 a.m. to 5 p.m., various dance, theatre and musical performances will take place to celebrate African-American authors and artists. From oral narratives of enslavement and spirituals as acts of protest to the pageants of W.E.B. DuBois, the Negro Units of the Federal Theatre Projects, the Black Arts Movement led by Ed Bullins and Amiri Baraka, and the cycle plays by August Wilson; from Mahalia Jackson to Michael Jackson, Queen Latifah, and Prince — this year Penn State Altoona celebrates all that comprises performance in African-American literary and cultural traditions. Film, theatre, spoken word, dance, rap, comedy, spectacle, hip-hop, opera, gospel and performance art are some of the genres that will be explored.
From noon to 1 p.m. the keynote presentation "Black Acting Methods," by Sharrell D. Luckett, will take place. Luckett is assistant professor of theatre and performance studies at Muhlenberg College. Her literary and embodied interdisciplinary research focuses conceptually on black studies, performance studies, and fat studies. She is lead editor of "Black Acting Methods: Critical Approaches," a groundbreaking anthology which is the first book to highlight diverse acting/directing methods rooted in Afrocentrism.
Her forthcoming book, "YoungGiftedandFat: Size, Sexuality & Privilege," details her experience as a transweight performer; and her solo show, YoungGiftedandFAT, was recently staged off-Broadway.
Luckett is a proud invitee of the nationally syndicated BlackademicsTV, the Performance Encounters series at Cornell University, Northwestern University's Mellon Program in Black Feminist Performance, and a Fellow of the esteemed Lincoln Center Directors Lab.
At 5:30 p.m., Aurin Squire, featured author of the 2017 African American Read-In at Penn State Altoona, will give a reading of his works in 101-103 Misciagna.
Squire is an award-winning playwright, screenwriter, and reporter. He is two-time recipient of the Lecomte du Nouy Prize from Lincoln Center and is a 2015 graduate of the Lila Acheson Wallace Playwright Fellowship at The Juilliard School. Squire has received fellowships and residencies at the Royal Court Theatre in London, Ars Nova, Lincoln Center Lab, National Black Theatre, the Dramatists Guild of America, and Brooklyn Arts Exchange. His dramatic works for stage include the political satire "Obama-ology," the dramedy "Don't Smoke in Bed," the dark comedy "To Whom It May Concern," and the dramas "Freefalling" and "Article 119-1."
As a screenwriter, Squire created "Dreams of Freedom," the multimedia installation video about Jewish immigrants in the 20th century, for the National Museum of American Jewish History in Philadelphia. In television he has written for the CBS political dramedy "BrainDead" and NBC's "This is Us." As an independent reporter, he has written for The Miami Herald, Chicago Tribune, The New Republic, and ESPN among others.
Squire will talk about his experiences writing for stage, television, and news organizations, share some of his work and take questions from the audience.
If you'd like to sign up to read, perform, or have questions about the Monday Marathon, contact Megan Simpson at [email protected].
All events are free and open to the public and sponsored by the African American Read-In at Penn State Altoona.