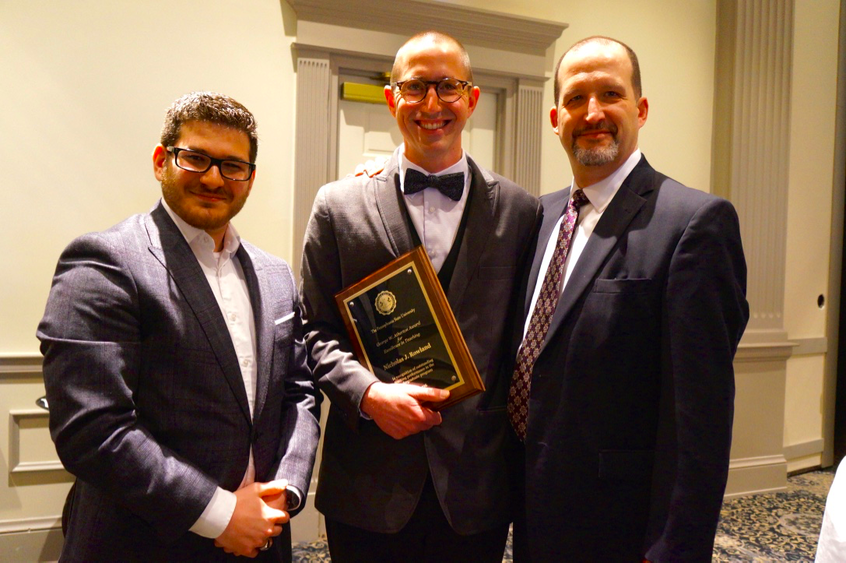 ALTOONA, Pa. — Nicholas Rowland, associate professor of sociology at Penn State Altoona, received the 2016 University-wide George W. Atherton Award for Excellence in Teaching.
Each year, Penn State honors several members of its faculty and staff for the highest levels of academic excellence, outstanding leadership and meritorious service. The 2016 Faculty/Staff Award recipients reach across campuses, colleges and administrative units and exemplify best practices and achievements among Penn Staters reflecting the University's mission of teaching, research and service. The Atherton Award, named for the seventh president of the University (1882-1906), is presented each year to several faculty members who have devoted substantial effort to undergraduate teaching.
This year, Rowland was one of six selected for the Atherton Award and is the 12th faculty member from Penn State Altoona to receive this honor since its inception as the AMOCO Award in 1978.
Rowland earned his doctorate in sociology from Indiana University in Bloomington, Indiana. He also has a minor in cultural studies. He joined the faculty of Penn State Altoona in fall 2007 as an assistant professor of sociology. On top of teaching nine or more contact hours per semester, he conducts research year-round, and routinely offers independent study credit to students serving as research or teaching assistants, or those interested in conducting their own research projects
Rowland says actively engaging his students with nontrivial opportunities for personal growth is his core teaching philosophy. Engaging, he says, means students have opportunities to engage with faculty, staff and their peers. Interactions like this led to a paid internship for one of his students who couldn't afford to take an unpaid position. The model Rowland developed paid off for that former student, who now works in Harrisburg conducting research, and it paid off for other students because it's now incorporated into an internship prep course that Rowland co-teaches.
Nontrivial, he says, refers to opportunities to publish, present or perfect a skill. To offer nontrivial experience for his sociology students, Rowland opened the social sciences laboratory for undergraduate students in the field, an achievement he calls his "single proudest accomplishment as a faculty member."
Growth and success, he says, reminds him of an experience he had with a former student who was ready to drop out after four hard, low-GPA semesters. Rowland intervened, invited the student to the research lab, and began demanding better work from him. The student was able to turn his academic career and continued to grow, even after submitting a subpar senior thesis to Rowland. "When I suggested a full rewrite, he paused, crushed, and then bravely responded, 'this is an opportunity for growth,'" said Rowland, adding that the student is now in graduate school.
"Rowland appears unfaltering in his efforts to improve himself, his students and the University," said a colleague. "His research on engaging scholarship is gaining national recognition, and his devotion to teaching has garnered local accolades and the trust and esteem of his students."
Rowland joins the following list of accomplished Altoona faculty: John E. Lennox (assistant professor of microbiology) in 1984; William G. Engelbret (associate professor of accounting) in 1992; Lori J. Bechtel-Wherry (professor of health education, now chancellor) in 1993; Douglas Brown (associate professor of mathematics) and Dinty W. Moore (professor of English and liberal arts) in 1998; Lee Ann De Reus (associate professor of human development and family studies and women's studies) in 2003; Rosalyn Costantino (associate professor of Spanish and women's studies) and Michael Weiner (associate professor of mathematics) in 2004; Peter Shull (associate professor of engineering) in 2005; Sandra Harbert Petrulionis (professor of English and American studies) in 2008; and
Laura Palmer (associate professor of biology) in 2012.