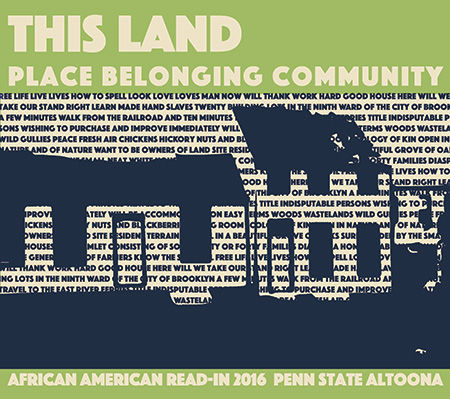 The 27th annual African-American Read-In Chain will be celebrated at Penn State Altoona Feb. 14 to 15. This year's theme is "This Land: Place, Belonging, and Community in the African-American Experience."
Events begin at 2:30 p.m. Sunday, Feb. 14, in the Port-Sky Café with a community gathering featuring music, literature, and a special program component for children ages 5-13. A meal also will be served. Attendees are invited to share a short reading from a work by an African-American author or just listen and enjoy. Advanced reservations are required. RSVP to [email protected] or 814-949-5280 by February 1.
The Read-In Chain continues from 9 a.m. to 5 p.m. Monday, Feb. 15, with "Monday Marathon," an Open Mic Read-In held in the Misciagna Family Center for Performing Arts. Various dance, theatre, and musical performances will take place to celebrate African-American authors and artists.
From noon to 1 p.m. the keynote presentation "Decisive Moments: Finding the Thresholds of African-American Place" by Elizabeth Kennedy will take place. Kennedy is founder and principal of EKLA PLLC, an open space management firm located in Brooklyn with a basic commitment to strong landscape planning and design for historic preservation, cultural sites development, landscape restoration and green infrastructure with a sensitivity to place and culture. Under Kennedy's direction, EKLA PLLC has received awards for excellence in design, preservation and sustainable site design from the Public Design Commission, New York Landmarks Conservancy, Preservation League of New York State, US EPA and the Mayor's Office of Sustainability, the National Organization of Minority Architects, NY AIA, and Long Island AIA. Kennedy has received notable awards for her contribution to landscape architecture and professional development from the Association of Minority Entrepreneurs of New York, the NAACP's New York Chapter, and NYC's Department of Small Business Services.
Kennedy will discuss her approach to landscape design solutions that embody a sense of time and place while bridging the present and the past in such cultural heritage projects as The African Burial Ground in lower Manhattan, The Weeksville Cultural Center in Brooklyn (on the site of one of the oldest communities of free Blacks pre-emancipation), and The Harlem Stage Gatehouse in Harlem.
At 5:30 p.m., Evie Shockley, featured author of the 2016 African American Read-In at Penn State Altoona, will give a reading of her works.
Shockley is the author of two books of poetry -- most recently, the new black, winner of the 2012 Hurston/Wright Legacy Award in Poetry -- and a critical study, "Renegade Poetics: Black Aesthetics and Formal Innovation in African American Poetry". Her poetry and essays appear widely in journals and anthologies, including Boston Review, pluck! The Journal of Affrilachian Art & Culture, Los Angeles Review of Books, boundary 2, Poetry, Best American Poetry 2015, and Best American Experimental Writing 2015. Her honors include the 2015 Stephen Henderson Award and the 2012 Holmes National Poetry Prize. Currently serving as creative editor on the Feminist Studies editorial collective, Shockley is associate professor of English at Rutgers University-New Brunswick.
There will be a book signing immediately following the reading.
To sign up to read, perform, or for questions about the Monday Marathon, contact Robin Reese at [email protected].
All events are free and open to the public.
All programs and events are sponsored by the African-American Read-In at Penn State Altoona.