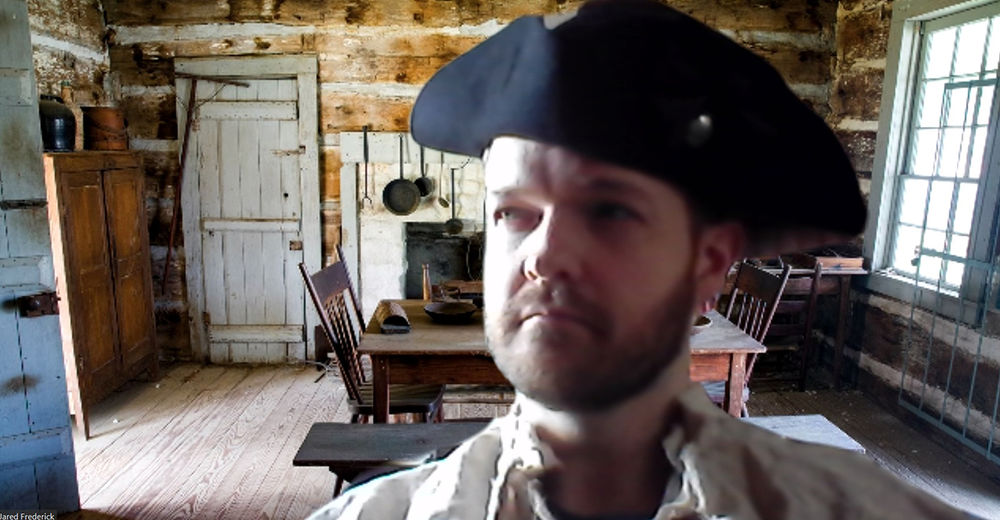 UNIVERSITY PARK, Pa. – Penn State professors are bringing creativity into remote learning environments: from unique virtual backgrounds to costumes and props, they are finding novel ways to engage with their students. Their efforts, welcomed by students, are an attempt to connect on a human level while providing laughter and compassion.
Jared Frederick, instructor in history at Penn State Altoona, said that he is adapting to the new situation with grace and humor. As an avid history memorabilia collector, Frederick has been using his collection as props for Zoom. 
"It's something they don't expect — a thematic background," said Frederick "Sometimes I do it just for fun, to lighten the mood. I hope it helps them a bit. I hear them chuckle when we start off — 'what's he doing today?'"
Similarly, faculty at Penn State Behrend have debuted special attire for their courses. Charlotte de Vries, assistant professor of mechanical engineering at Penn State Behrend, has been flying in the sky as an X-wing fighter with her replica "Star Wars" rebel-pilot helmet.
Also in on the fun are Richard Zhao, assistant professor of computer science and software engineering; Jill Johnson, lecturer in mechanical engineering; and Dean Lewis, assistant teaching professor of mechanical engineering.
De Vries explained that it's important to recognize the varying levels of stress that students may be facing.
"I wanted to do something that would make this a little more fun," de Vries said.
Some students are enjoying other cinematic universes such as "The Hobbit" and "Harry Potter" with Daniel Russell, teaching professor and distance education coordinator in the Penn State College of Engineering Graduate Program in Acoustics.
Russell explained that students are "extremely encouraging" of his new attire, and he plans to continue to use humor as a stress reliever for not only his colleagues and students, but for himself as well. 
"When faculty show that they care about their students, it goes a long way — and when faculty reveal that they too are struggling with making the adjustment to these unprecedented circumstances, it helps show that we are human," Russell said.
While not all faculty members have been dressing up, Sarah Root, associate teaching professor in the College of Engineering's Harold and Inge Marcus Department of Industrial and Manufacturing Engineering, recognizes the need for stability, celebration and optimism.
In one particular class, her students sang Happy Birthday to a lucky classmate.
"It was a really funny, beautiful moment," Root said. "People held up their pets and all sang Happy Birthday to her. While we may not be together like we are for a football game in Beaver Stadium, we still have a strong Penn State community, which is really special."
Root, well-known for her humor, also served as a master of ceremonies for a departmental "night of togetherness." Despite not serving as a master of ceremonies before, Root said she was "glad that we could have togetherness, apart."
'We Are' Stories
The "We Are" spirit is perhaps more important than ever before, and Penn Staters everywhere are coming together in new and amazing ways. During these challenging times, our community is continuing to realize Penn State's commitment to excellence through acts of collaboration, thoughtfulness and kindness. As President Eric Barron has written on Digging Deeper, this truly is a "We Are" moment — and we want to hear your "We Are" stories.
Visit news.psu.edu/WeAre to share how you or other Penn Staters are supporting each other to overcome the collective challenges presented by the novel coronavirus. We are!