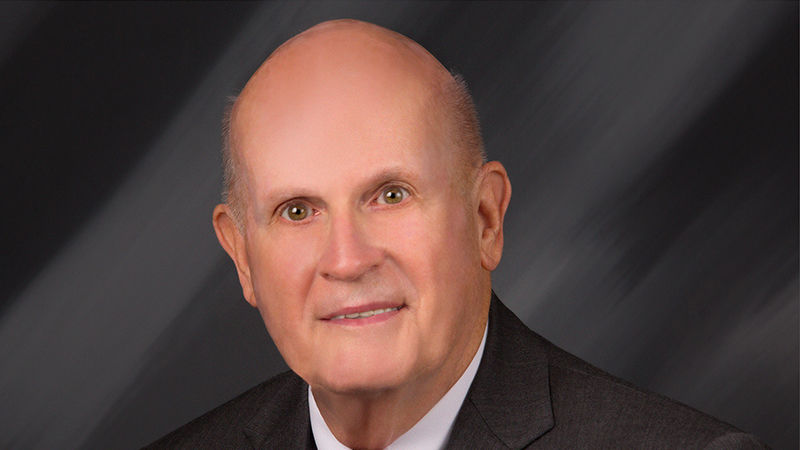 ALTOONA, Pa. — With a $150,000 gift, Penn State alumnus C. David Kimmel, of Altoona, has established the C. David Kimmel Intercollegiate Athletics Enhancement Endowment at Penn State Altoona. Income from the endowment will be used in support of Division III athletics teams at the campus and benefit student-athletes in perpetuity. Funds will be used for new initiatives, student-athlete honors and recognition programs, travel, equipment and supplies.
"I am pleased to be able to establish this endowment," said Kimmel. "When we decide to notice, when we decide to act, when we decide to make a difference even in a small way, perhaps we have taken the first step in creating something better."
Kimmel retired as associate director of alumni relations and stewardship in June 2016, his second tenure at Penn State Altoona. He began his career at the Altoona campus in 1963 when he was hired as the college's first director of university relations. Before returning to the campus, Kimmel provided leadership to the American Cancer Society's Pennsylvania Division as the regional vice president of the Central Region and served as the director of marketing and communications from 1978 to 2002 at Bon Secours-Holy Family Regional Health System in Altoona.
Kimmel helped to implement various alumni and stewardship initiatives at Penn State Altoona, such as Pioneer Weekend and the Alumni Society's annual fundraising event, the Winter Plunge, which raises funds for the Alumni Society Scholarship Program and Penn State Altoona's student food pantry. Since its inception in 2013, the Winter Plunge has raised more than $210,000 and was recognized in 2013 by the Penn State Alumni Association with the New/Innovative Event or Program Award. Under his leadership, the Penn State Altoona Alumni Society made a $60,000 commitment to establish a Trustee Scholarship. In recognition of the gift, the Alumni Society was inducted into the Ivy Circle category of Ivyside Society, the highest level of giving at Penn State Altoona.
Kimmel was inducted into the Platinum category of Ivyside Society after creating the C. David Kimmel Trustee Scholarship in 2010, which provides support to Penn State Altoona students studying communications with high financial need.
Kimmel remains connected to Penn State Altoona as the founder and leader of the Athletics Concessionaires, a volunteer group that runs the concession stand in the Adler Athletic Complex. He is also the lead sponsor of the annual Student-Athlete Dinner and Awards Ceremony, and he organized the inaugural Student-Athlete Alumni Reunion. He sits on the college's History and Archival Committee and the Community for Kids Golf Tournament Committee and recently finished serving as a member of the college's Alumni Society Board of Directors.
"C. David Kimmel's passion for supporting our students and college is unwavering and inspiring," said Lori J. Bechtel-Wherry, Penn State Altoona chancellor and dean. "He is generous with his time, talents and resources to support his beloved campus and college. I am grateful for his ongoing support."
Throughout the years, Kimmel has been a tireless volunteer for numerous community nonprofit organizations, including the American Cancer Society, Blair Senior Services, and Child Advocates of Blair County. He is also actively involved with the Altoona-Johnstown Catholic Diocese, serving as a member of the board of directors of Catholic Charities and formerly serving as the board's president. He also served as the co-chair of the successful $1.2 million Cathedral of the Blessed Sacrament Parish 2015 Capital Gifts Campaign.
In 2011, Kimmel received the Blair County American Cancer Society's Shirley A. Pechter Pinnacle Award, which recognizes notable volunteer achievements and accomplishments in furthering the organization's mission in Blair County and active involvement in the community.
Kimmel's gift will advance "A Greater Penn State for 21st Century Excellence," a focused campaign that seeks to elevate Penn State's position as a leading public university in a world defined by rapid change and global connections. With the support of alumni and friends, "A Greater Penn State" seeks to fulfill the three key imperatives of a twenty-first-century public university: keeping the doors to higher education open to hardworking students regardless of financial well-being; creating transformative experiences that go beyond the classroom; and impacting the world by fueling discovery, innovation and entrepreneurship. To learn more about "A Greater Penn State for 21st Century Excellence," visit greaterpennstate.psu.edu.