Blue-White Weekend events will bring together alumni to celebrate 100 years of one of the largest, oldest and most successful Army ROTC programs in the nation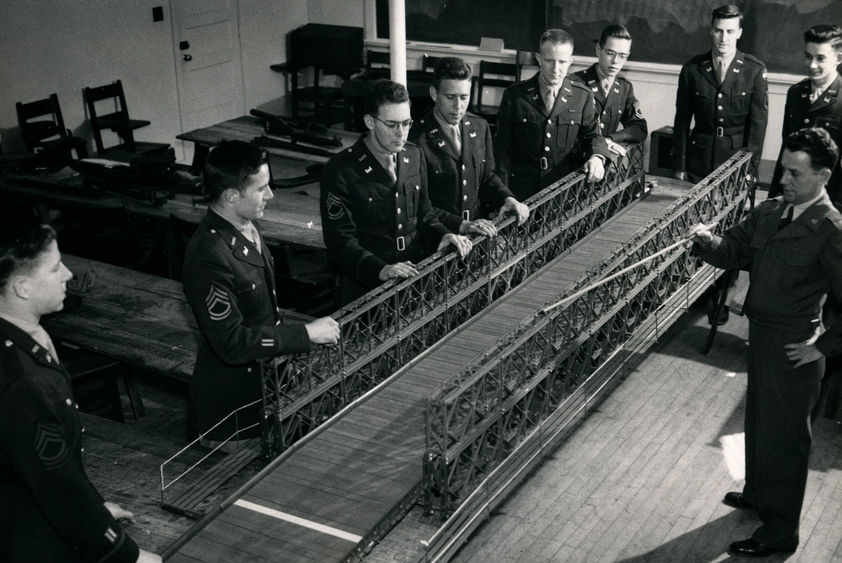 UNIVERSITY PARK, Pa. — On Blue-White Weekend, April 15-17, Penn State's Army ROTC alumni, along with current cadets and cadre of the Nittany Lion Battalion, will join together to celebrate the 100th Anniversary of the Army Reserve Officers' Training Corps.
The celebration will commemorate the National Defense Act of 1916, which with its signing by President Woodrow Wilson created the ROTC and continued Penn State's tradition of military instruction, evidenced today in one of the oldest, largest, and most successful Army ROTC programs in the nation.
"I'm proud of the part Penn State has played in producing leaders who go on to serve our great nation," said Penn State President Eric Barron." For 100 years, the Nittany Lion Battalion has represented our institution and country with loyalty, dedication and bravery. I salute those individuals who chose that path, as well as those faculty and staff members who guided the program to excellence."
Events on Friday, April 15, will include recent Nittany Lion Battalion alumni speaking to current cadets to offer their experiences and observations as members of the U.S. Army, along with an evening social for alumni at the American Legion in State College. On Blue-White Saturday, the Nittany Lion Battalion will host an alumni tailgate prior to the group attending the game.
Tradition of excellence
Today, as it has through much of its history, Penn State Army ROTC is considered one of the top programs in the nation. It consistently ranks high in both the quality and quantity of commissioned officers it produces for the U.S. Army.
In 1940, it was one of the two largest ROTC programs in the East, along with Cornell. Fifty-five years later, in 1995, it would be named "best from coast to coast" out of 350 Army ROTC programs by U.S. Army Cadet Command, the command that oversees ROTC. The Nittany Lion Battalion holds a similar elite position today among its peers.
Lt. Col. Rich Garey has been Professor of Military Science for the Nittany Lion Battalion since 2015, and points to the dedication of cadets as the core of the program's success. "Our Army ROTC Cadets truly run the program here at Penn State, and are historically some of the top performers within ROTC across the nation," said Garey.
Evolution of military instruction at Penn State
The program's roots are found in the humble beginnings of military training established at Penn State during the Civil War. With the war intensifying, Congress realized the need for more widespread military training and officers with the skills necessary to lead Union armies.
To help remedy this shortcoming, the Morrill Land Grant Act of 1862 was passed, a section of it specifying that each land-grant institution include military tactics in its curriculum.
In 1863, the Pennsylvania State Legislature accepted the provisions of the Morrill Act and named the Agricultural College of Pennsylvania the recipient of its funds. The following year, when the University Board of Trustees voted to create a military department, President William Allen organized the students into a military company and required two hours of drill each week. In 1865, military exercises for students became mandatory.
The University's commitment to military training can be seen throughout its history. So committed, in fact, was President George Atherton that, in 1898 when a regular Army officer was not available due to the nation's commitments in the Spanish-American War, he purchased his own uniform and personally supervised the cadet battalion throughout the year.
Before the ROTC program, military instruction at Penn State consisted mostly of drill a few times each week and an occasional lecture on a subject of military interest; no theoretical instruction was given and no academic credit was awarded.
In 1916, with the U.S. about to enter WWI, the shortage of trained Army officers again became evident, and leaders saw the need to regulate military education. The National Defense Act of 1916 would create the Reserve Officers' Training Corps, standardizing military education and training under a single, federally controlled entity. From then on, ROTC would prove to be an indispensable source of trained Army officers to be called upon for national defense.
In the decades that followed, the Army ROTC program would be revised and strengthened with changes in curriculum and the establishment of ROTC scholarships, giving countless young people access to a college education.  
"The Army consistently morphs into a leaner, smarter, more well-trained machine each year," said Sgt. Maj. Carolanne Wright, Nittany Lion Battalion's Chief Military Science Instructor. "It remains vitally important that we do our best during these critical ROTC years to provide the best knowledge and opportunities possible to the cadets."
Penn State ROTC becomes an elective
In the early 1960s, the United State's involvement in the Vietnam War was quickly escalating, and mandatory ROTC participation for all freshman and sophomore males at Penn State was still in effect. This obligation was regularly protested by students.
After the Army stated that a compulsory program was unnecessary for them to secure the number of needed officers, a major milestone for Penn State ROTC occurred in 1962 when the University Faculty Senate passed, by a narrow margin, a recommendation to end mandatory ROTC.
The Board of Trustees acted on the recommendation the following year, and voluntary ROTC became effective July 1, 1964.
This news was greeted with "a huge sigh of 'all the fighting was worth it,'" by students, according to an Editorial Opinion in the summer Collegian on June 20, 1963. "No one can be badgered into wanting something; anything of value results from personal initiative. If anything is valuable to this country, it's those officers responsible for the national defense, and the safety of every individual citizen."
Women enter ROTC
It was in 1972 that a major milestone for women's equality in the armed forces occurred at ten universities nationwide — for the first time, women were permitted to enter the program. Six female cadets at Penn State were awarded scholarships out of only 20 available across the U.S., and about 25 female cadets would join Penn State ROTC that year alongside male counterparts.
When asked why she would sign up for ROTC, 1972 scholarship recipient Susan Rodems stated, "The chance at a college education is an excellent incentive," as is "the practical training and experience the program provides" and "the leadership opportunities of serving as an Army officer."
These trailblazing women would be commissioned into the Women's Army Corps in 1975-76, a separate Corps of the Army that would later be abolished.
Today, women account for about 17 percent of Penn State Army ROTC cadets. Sgt. Maj. Carolanne Wright was named Chief Military Instructor in 2013 and, with almost 25 years of Army experience, serves as an example to female cadets of a long and successful Army career that is now possible for women. 
"I believe it's beneficial to all cadets to see a diverse set of officers and noncommissioned officers. The closer we can mirror the Army as a whole, the better it is for each cadet," said Wright. "People can have a very different view of what being a woman in the military is like if they've never served, so it's helpful for female cadets to hear the point of view of a seasoned female soldier."
A tradition of leading and learning outside the classroom
Throughout its history, Army ROTC affiliated organizations have been an important aspect of life for cadets, serving as an avenue to improve tactical and leadership skills and celebrate community within the battalion.
Early in its history, bands were part of Penn State's military tradition, setting cadence to marching drills and parades. The origins of today's Blue Band are found in the Cadet Band, re-named the College Band in 1913.  
The Lion's Guard — the Army ROTC drill team — began at Penn State in 1932 as Headquarters Company B-8 of the National Organization of Pershing Rifles. The drill team removed itself from the Pershing Rifle organization in 1978, taking on the name "Lion's Guard" in honor of the Pershing Rifle pledges who guarded the Lion Shrine during football games. Today, Lion's Guard members still take part in the time honored tradition, dating back to 1966, of guarding the Lion Shrine during Homecoming weekend.
The Army ROTC Ranger Club has existed for decades, and its Ranger Challenge Team made history in 2013 when it placed second in the international Sandhurst Competition, the highest ROTC finish in competition history.
Brendan Bagley, a 1992 alumnus of the Nittany Lion Battalion, credits the skills he learned participating in both Lion's Guard and Ranger Club to his success as an active duty Field Artillery Officer. "Both organizations provided me the opportunity to focus on attention to detail, train peers, become a problem solver in leadership situations, and improve tactical understanding and execution" said Bagley. "These skills made me a better cadet, a better person, and raised the bar on what was expected of me in the future."
Today, Nittany Lion Battalion cadets also run marksmanship and running clubs, a Cadet Recruiting Team, and give back to the Penn State community through Kaizen, a fundraising club for THON. 
A century of service and sacrifice
Over the last 100 years, thousands of Penn State Army ROTC students have committed themselves to excellence at Penn State and service to our nation. They commission and serve in the U.S. Army on active duty, in the Army National Guard, and in the Army Reserves, in a multitude of roles that take them all over the world.
And for 100 years, Penn State Army ROTC alumni have also made the ultimate sacrifice, a plaque in Wagner Building standing "in proud memory of those members of the United States Army who died in defense of freedom." The Wagner Building itself serves as memorial, named for the late Lt. H. Edward Wagner, a Penn State alumnus killed in action during World War II.
Vincent J. Tedesco III, retired colonel, 1986 alumnus of the Nittany Lion Battalion, and honorary colonel of the battalion, said his time at Penn State gave him a solid foundation for the very successful military career that would follow. He commanded troops at home and in conflict in the Middle East, and served as Chief of War Plans for U.S. Army Central Command supporting Operations Iraqi Freedom and Enduring Freedom.
While some things have changed since his time in the Nittany Lion Battalion, "the basics are the same," according to the retired colonel. "A tremendous tradition, a great cadre, cadets interested in serving their country, and the basics of learning to be a solider and an officer. Those things should never change."
Thanks to the Penn State University Archives for use of the archival materials referenced in this story.
Contact
David Rizzo
Assistant professor of military science, Penn State Army ROTC