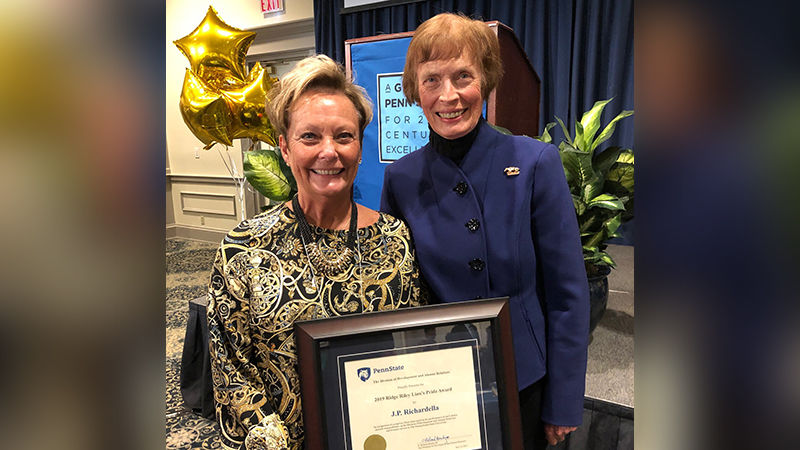 J.P. Richardella, development assistant in the Office of Development and Alumni Relations at Penn State Altoona, was honored by the University's Division of Development and Alumni Relations during a ceremony on May 13. Richardella received the 2019 Ridge Riley Lion's Pride Award, which recognizes exemplary Penn State spirit in the performance of a person's duties and responsibilities to the division and in broad service to Penn State.
Richardella has served in her role for more than 20 years and has enjoyed nearly 25 years of employment at Penn State Altoona. Nominated for her selfless commitment to Penn State and a tireless dedication to her performance, she has helped manage the office through various transitions and three capital campaigns. In her role, she has organized donor and stewardship events and has recorded and acknowledged thousands of gifts. She will retire from Penn State on July 31, 2019.
One nominator wrote, "This year's recipient consistently goes above and beyond to ensure the quality of service to our donors, constituents, students, and colleagues. She has set the bar at the highest level leaving everyone with a sense of pride in Penn State and excitement for furthering the cause of the University."
Another nominator shared, "The collegiality and singular purpose of pride in service to the Penn State community she has exhibited has been a motivation to everyone. She has brought people together and built community."
The Ridge Riley Lion's Pride Award is named for and honors the spirit of Ridge Riley, a 1932 alumnus who served as executive director of the Penn State Alumni Association for 23 years (1947–70). Riley created and authored The Football Letter, which he wrote weekly for 38 years, and went on to serve as a University trustee after retiring from the Alumni Association.