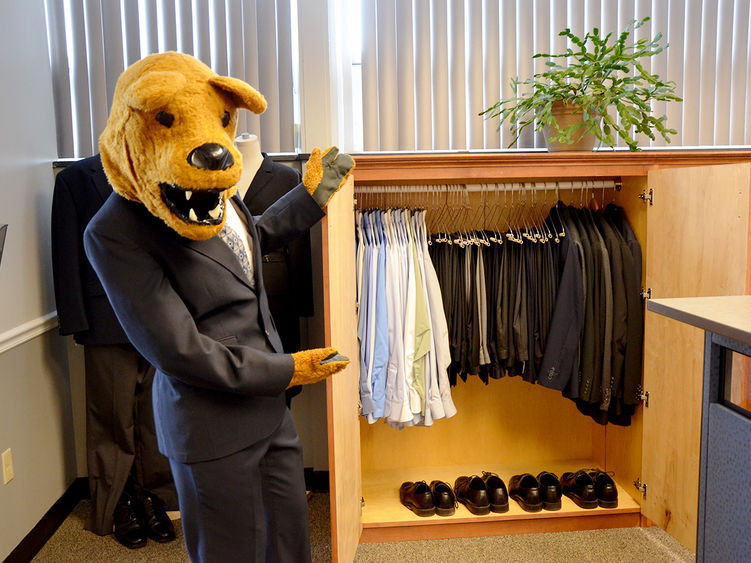 ALTOONA, Pa. — Citing a passion to provide ongoing care for Penn State Altoona and its students, a gift of $25,000 has been made to the college's Career Closet by Deedra "Dede" Kazmaier and named to honor the dedication to the college she and her late husband, John, shared.
The John P. and Deedra M. Kazmaier Family Program Endowment to Support Career Services at Penn State Altoona is the first commitment of its kind. It will provide financial support for the Career Closet which offers appropriate professional clothing for students to use for interviews, networking events, job fairs and conferences.
"The familiar expression 'You don't get a second chance to make a good first impression' has special personal meaning to me because an integral part of my lifelong career has focused on helping people to present themselves well," said Dede Kazmaier, who has made a life-long career as a businesswoman and a self-employed professional image consultant. "Image is essential. It is the initial statement to others about who you are, and a positive self-image can give reassuring confidence, an extremely valuable asset."
The Career Closet service is free for students, and all clothing items are professionally dry-cleaned, so students are "dressed to impress" the moment they walk out the door.
"The Career Closet is a hidden gem on campus," said Angela Bunk, an electro-mechanical engineering technology student. "I was able to pick the perfect outfit for the Undergraduate Research Fair in less than an hour. It's reassuring to know that if I don't have appropriate attire in my wardrobe for any business professional event, the closet will have it."
This academic year, the closet provided over 497 pieces of clothing to 171 students. Those numbers are expected to increase in 2023-24.
"Supply can be limited at certain points of the year with the amount of early professional events taking place," said Bunk. "It's important that the Career Closet gets more monetary support so more items can be added and more students can utilize it."
"Thanks to the support of this gift, we will be able to continue this worthwhile project for many years to come," added Sherri McGregor, Career Services employer engagement specialist.
Dede and her late husband John are from Hollidaysburg, Pennsylvania. In 2007, Penn State Altoona received a significant gift from John and Dede and John's mother, Jane Patterson Kazmaier Lower. In recognition of the gift from the longtime friends of the University, the Kazmaier Family Building opened in 2009 as the home to the college's Development and Alumni Relations Office.
"I believe in the importance of appropriate appearance, good manners and having an awareness of how to respectfully conduct yourself and interact in the world," said Kazmaier. "The Career Closet offers leadership and life preparation resources to guide students in the same areas. In supporting this service, it allows me to share many of my values through its ongoing mission."
Gifts like the John P. and Deedra M. Kazmaier Family Program Endowment to Support Career Services at Penn State Altoona advance the University's historic land-grant mission to serve and lead. Through philanthropy, alumni and friends are helping students to join the Penn State family and prepare for lifelong success; driving research, outreach and economic development that grow our shared strength and readiness for the future; and increasing the University's impact for families, patients, and communities across the commonwealth and around the world. Learn more by visiting raise.psu.edu.