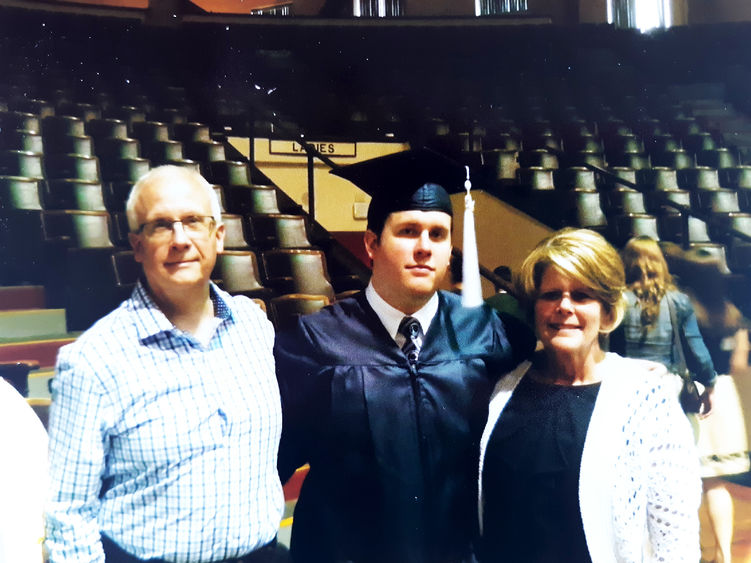 ALTOONA, Pa. — Timothy and Tammy Peterman, of Altoona, have committed a seven-figure gift to establish the Zachary T. Peterman Class of 2014 Memorial Electro-Mechanical Engineering Student Scholarship Fund at Penn State Altoona.
This gift, which will help to ease financial burdens of the college's electro-mechanical engineering technology (EMET) students, has secured a $10,000 match from the Penn State Legacy Challenge Program that will be available for student scholarships immediately.
"On behalf of our Penn State Altoona family, I express deep gratitude to Tim and Tammy Peterman for honoring the life of their son, Zach, in a manner that will benefit our electro-mechanical engineering students in perpetuity," said Chancellor and Dean Lori J. Bechtel Wherry. "We are thankful for their spirit of philanthropy that inspired the creation of this scholarship. The beneficence of Tim and Tammy is a testament to the values and principles that have defined their lives. We appreciate their gift that was made on behalf of their beloved son and for his legacy at Penn State Altoona."
The scholarship honors the memory of the Peterman's late son, Zachary, who graduated from the EMET program in 2014 after the successful completion of his senior capstone project, "Automated Basketball Arcade."
After graduation, Zach began working at Lee Industries in Phillipsburg. He was employed there until June 2017, when he was hired on at Penn State's Office of Physical Plant as a reliability planner.
As an avid fly fisherman and hunter, Zach enjoyed the outdoors. He could be seen frequently walking the Juniata River with his fly rod catching trout or at the Raystown Branch fishing for smallmouth bass. Zach was a gun collector and passionate target shooter. He enjoyed working on his motorcycle and truck and was a good mechanic. Included on his bucket list was to visit every state park in Pennsylvania on his motorcycle. He was able to see several. Zach loved animals, especially his cat, Finn. He was a huge Disney and Star Wars fan and loved video games. He loved being with his family, especially at holidays. His parents say Zach was quiet and very intelligent. They add that he had a kind heart and was a selfless, giving person.
Timothy and Tammy are both from Altoona, and the Peterman family has a long-standing tradition of attending Penn State. Timothy began his education at the Altoona campus and earned his degree in mechanical engineering in 1980, and the couple's two other children, Erica and Jared, also are alumni of the University.
"This gift reflects our belief in being selfless," said Timothy. "It also reflects our love for Penn State and the value of higher education. This endowment will assist EMET students who, like Zach, want to make the world a better place by solving problems that lie before us."
Timothy recalled how hard Zach worked at the Roaring Spring paper mill and at Greenwood Meadows during the summers. Most of his earnings were used to help pay for college, and he was grateful to receive scholarship support to also defray costs. Zach was able to graduate debt-free, and Timothy and Tammy said their gift will allow other students to graduate without significant debt.
"Our hope is that our son Zach will be remembered as a good student and a kind person who cared about others," Timothy said. "This endowment would make him proud, knowing that it will help others less fortunate. I'm sure he is smiling from above."
The establishment of this scholarship will advance "A Greater Penn State for 21st Century Excellence," a focused campaign that seeks to elevate Penn State's position as a leading public university in a world defined by rapid change and global connections. With the support of alumni and friends, "A Greater Penn State" seeks to fulfill the three key imperatives of a 21st-century public university: keeping the doors to higher education open to hardworking students regardless of financial well-being; creating transformative experiences that go beyond the classroom; and impacting the world by serving communities and fueling discovery, innovation and entrepreneurship. To learn more about "A Greater Penn State for 21st Century Excellence," visit greaterpennstate.psu.edu.
The Penn State Legacy Challenge allows donors to create a future scholarship and see the impact of that gift during their lifetime. Bequests of $250,000 or more to endow scholarships will secure a $10,000 match from University funds, which will be used immediately to meet the urgent need of Penn State students and provide four years of awards to students. This matching program will exist until the campaign ends on June 30, 2022, or until the full pool of University matching support has been exhausted. To learn more, contact the Office of Gift Planning at 888-800-9170 or [email protected].
For information on all giving at Penn State Altoona, contact Director of Development Mary Ann Amato at 814-949-5154 or [email protected].