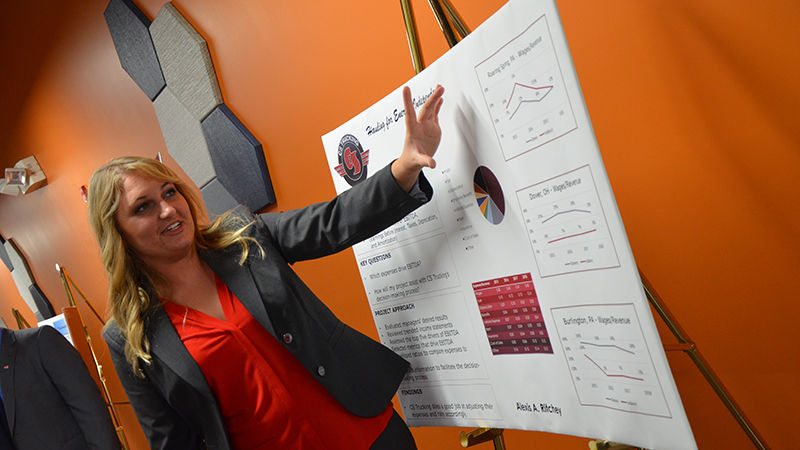 ALTOONA, Pa.—The public is invited to the spring Penn State Altoona Student Showcase Friday, April 26, 2019, at the Devorris Downtown Center.
See firsthand how Penn State Altoona students are using knowledge from the classroom to enhance many organizations' operations, products, and services. Students will present in the areas of business, electro-mechanical engineering technology (EMET), rail transportation engineering, security and risk analysis, and creative research activities. Many will also participate in the Pechter Business Plan Competition. The Young Entrepreneurs' Academy of the Blair County Chamber of Commerce will hold a tradeshow.
The event begins with opening remarks at 8:45 a.m. from keynote speaker Philip Devorris, president and CEO of Blair Companies.
Student presentations run from 9:00 a.m.–2:30 p.m. EMET project demonstrations and Creative Research Activities Fair presentations will take place beginning at 2:30 p.m. at the Ralph and Helen Force Advanced Technology Center and the Misciagna Family Center for Performing Arts on the Ivyside campus. A complete schedule may be found at altoona.psu.edu/showcase-spring19 online.
Please RSVP by Wednesday, April 24 to Judy Paul at [email protected] or 814-940-3400. A free networking lunch will be provided at noon. There is no cost to attend.
The title sponsor for the Student Showcase is the Donald and Nancy Devorris Entrepreneurship Program Endowment. Penn State Altoona is also pleased to partner with the Blair County Chamber of Commerce and the Altoona Blair County Development Corporation for the Student Showcase.