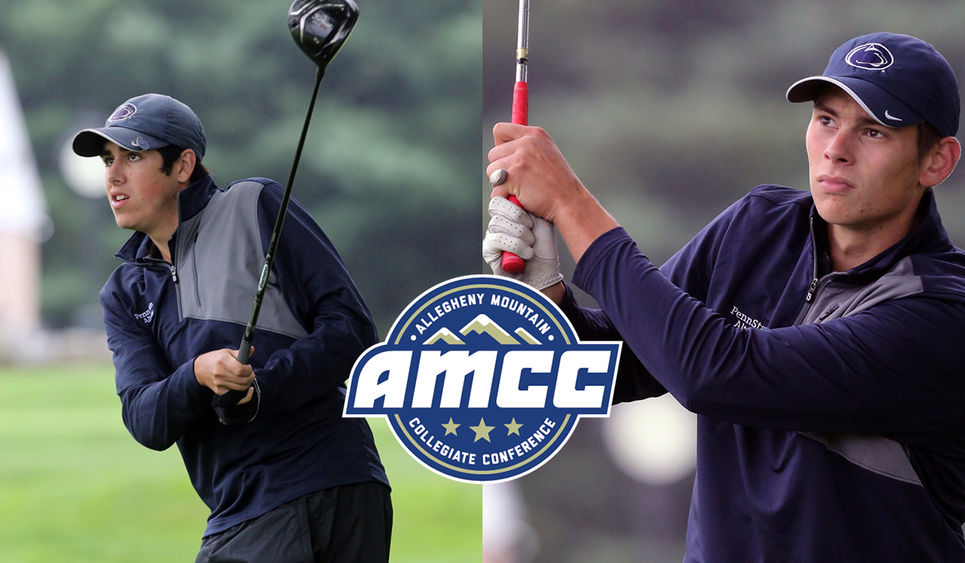 ORCHARD PARK, N.Y. – Penn State Altoona men's golfers Jimmy Gillespie (Glen Mills, PA/Garnet Valley) and Ethan Yohe (Murrysville, PA/Franklin Regional) were voted to the second team of the All-Allegheny Mountain Collegiate Conference squad, which was announced by the league on Wednesday, October 17, 2018.
Gillespie, a sophomore, finished the 2018 season with a team-best 78.82 average score per round, competing in all 11 rounds for the Lions. This is his first appearance on an AMCC All-Conference team.
Gillespie shot a collegiate career-best 74 on two different occasions this fall. In the Mount Aloysius College Invitational on September 16, he fired 74 to place second individually out of 48 golfers. Gillespie repeated that score of 74 in the Penn State Behrend James M. Bowen Invitational on October 1, when he tied for second place out of 54 individuals. The sophomore's top finish of the season came on September 24, when he won the Lycoming College Invitational by shooting 75 to finish first in a field of 32 golfers. In the AMCC Championships on October 7-8, Gillespie finished with a two-day combined score of 163 (81/82) to tie for 15th out of 44.
Yohe, a freshman, competed in 10 of Penn State Altoona's 11 rounds of golf, compiling a 79.8 average that ranked second-lowest on the team.
Yohe's lowest score of the season came in the Gettysburg College Fall Invitational on October 3, when he shot 73 to place second individually out of 71 golfers. The freshman also notched a second place finish in the Lycoming Invitational, when he carded a 76 to earn runner-up status out of 32 individuals. Yohe compiled a two-day score of 172 (79/93) in the AMCC Championships to tie for 30th place out of 44.
Penn State Altoona men's golf came in fourth place in the AMCC Championships, shooting 641 (318/323) in the two-day event. Other highlights this season for the Lions included winning the Penn State Altoona Invitational and recording second place finishes in the Mount Aloysius, Lycoming, and Penn State Behrend Invitationals.