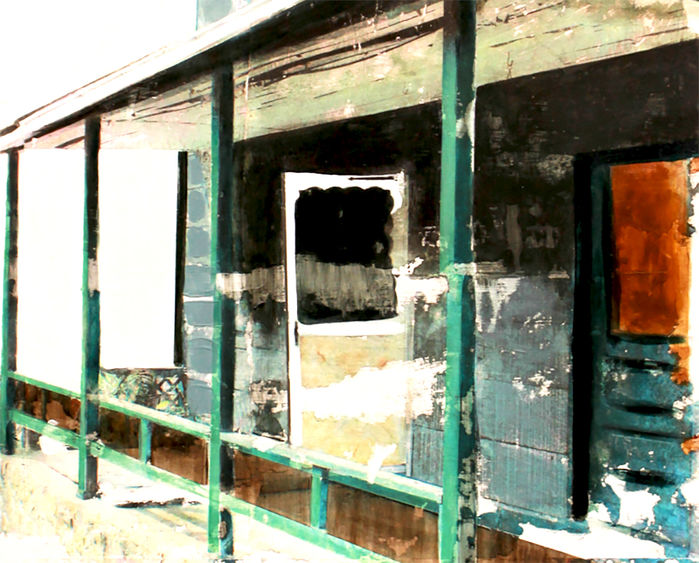 ALTOONA – 15901, a solo exhibition of work by Penn State Altoona student Kelly Gajewski, will be on display in the Sheetz Gallery of the Misciagna Family Center for Performing Arts April 19 - 28, 2018. A reception will be held 3:00 - 5:00 p.m. on Thursday, April 19 in the Titelman Study of the Center.
Gajewski was born in Johnstown, Pennsylvania, the subject of her current series of work. She explores the environment and atmosphere of her hometown by combining painting and photography. 15901 details fragments of Johnstown as they stand today, but with layered paint on top of each image to impose Gajewski's own specific memories. She emphasizes the worn down culture and rusted way of life that has enveloped the place where she grew up— a place once full of vigor.
Combining painting and photography, Gajewski's work emphasizes atmosphere and location. From 2014-15, Gajewski studied abroad in Rome where she had exhibitions at both Temple University Rome's gallery and Circolo Degli Artsti in San Giovanni. In 2013 she was awarded the Ken Kuhn Memorial award for Visual Arts, and in 2015 she was recognized in Penn State's literary magazine, Hard Freight, for receiving second place for a performance piece based on the book The Art of Asking by Amanda Palmer.
The Galleries are open Monday – Thursday, 10:00 a.m. – 2:00 p.m. and before and during all performances. For further information, call the Misciagna Family Center for Performing Arts at 814-949-5452.