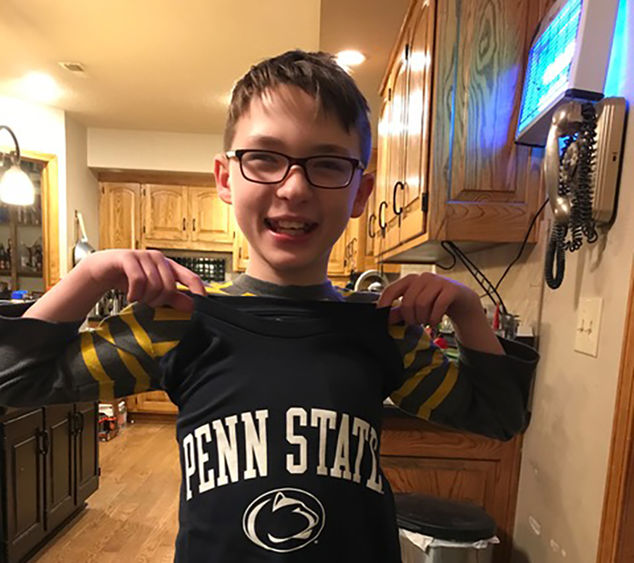 Hayden Hodges of Missouri won't graduate from high school until 2024, but he is already planning to attend Penn State Altoona for rail transportation engineering (RTE).
Hayden even wrote a letter of intent to the college's Admissions Office this month:
My name is Hayden Hodges. I am 11 years old and I have always loved trains. It is my intent to apply to your Rail Transporation Engineering program after I complete high school. My favorite trains are British steam engines. I have ridden NYC subways, Metro North railroad, and Amtrak trains in the US. I have also ridden the London Underground, British National Rail, and several heritage steam railways in the UK. I feel I would make an excellent railroad engineer with my lifelong passion for trains.
Sincerely,
Hayden Hodges
Bryan Schlake, instructor in the RTE program, responded with some words of advice for young Hayden:
Dear Hayden,
Thank you for your interest in the RTE program at Penn State Altoona. It sounds like you have already many great experiences with various rail transportation systems around the world. The best thing you can do to prepare for the RTE program is to work hard in school and do the best you can in your math and science classes. Our program is a true engineering program (similar to civil engineering) and you will need to be strong in math and science to make it through this degree. Our graduates usually go on to work for major Class I railroad companies or consulting firms to design, build, and maintain the railroad track structure. Other students have gone on to work in railroad mechanical departments on Locomotive maintenance or design. We also prepare students for careers in railroad operations and management. Although some students in our program do have an interest in operating the trains, they will mostly be the ones designing the train operation systems and/or the tracks themselves.
Altoona is a great place for all of this, with the long history of railroading in this part of the country.
If you are still interested in the RTE program in a few years, please get in touch with us to set up a campus tour!
If you have other questions, please do not hesitate to reach out to us!
Sincerely,
Bryan Schlake
We will see you on campus soon, Hayden!