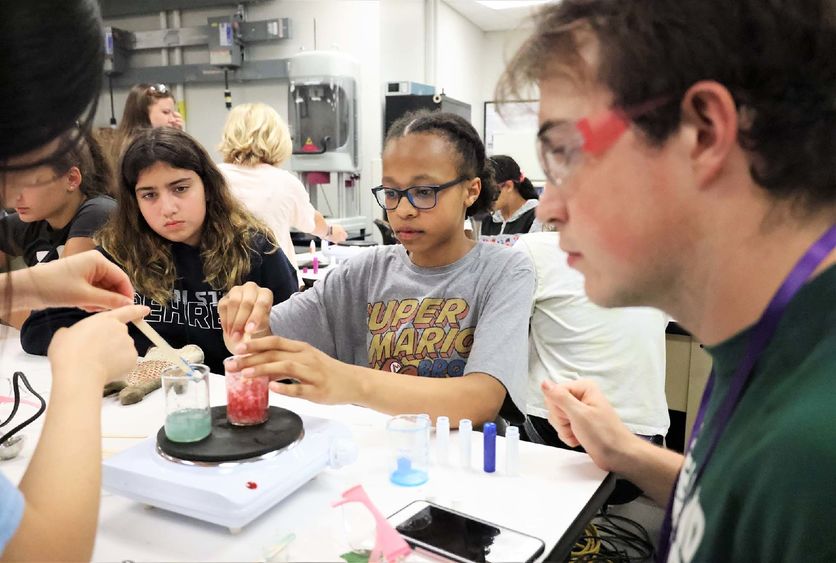 UNIVERSITY PARK, Pa. — Penn State has named transportation industry leader Wabtec Corporation as its 2023 Corporate Partner of the Year. The annual award celebrates corporate partners that have demonstrated exceptional commitment in the promotion and support of Penn State, have excellent track records of philanthropy and research and actively engage Penn State students and alumni in the workplace and the classroom.
"Wabtec continues to be a remarkable supporter of engineering education and research at Penn State," said University President Neeli Bendapudi. "Through our pioneering strategic partnership, Wabtec is bolstering Penn State's long-standing efforts to foster a culture of innovation in multiple engineering fields while preparing our graduates for distinguished careers on the cutting edge of an evolving workforce. Wabtec's philanthropic leadership underscores their leadership in the rail transportation industry, where their digital expertise, technological innovation, and world-class manufacturing and services are propelling the industry forward. I am grateful that Wabtec has chosen to build such a powerful relationship with Penn State."
Headquartered in Pittsburgh, Wabtec is a global provider of equipment, systems, digital solutions and value-added services for the freight and transit rail sectors, as well as mining, marine and industrial solutions. In 2020, Wabtec became the first corporation to embrace Penn State's holistic partnership model, paving the way for other companies to follow. Encompassing energy management, battery technology and machine learning research, as well as professional and talent development, the $1.5 million partnership spans three physical campuses — University Park, Penn State Altoona and Penn State Erie, The Behrend College — as well as the online Penn State World Campus and unites them under one strategic vision.
At Penn State Altoona, Wabtec's support focuses on the Rail Transportation Engineering (RTE) program, the nation's only bachelor of science degree program in that field. The company has donated locomotive and engine components to the program as well as other gifts-in-kind of laboratory equipment, and it provides funding for RTE students to visit Wabtec's manufacturing facility in Erie, Pennsylvania. At University Park, Wabtec has funded battery storage research in the College of Engineering and has engaged with the Engineering Leadership Development Program. The company has supported the Engineering Ambassadors, who conduct K–12 outreach, at University Park as well as Penn State Behrend.
Wabtec's partnership with Penn State Behrend also includes sponsorship of Wabtec Girls @ Penn State Behrend, a free week-long science, technology, engineering, arts and math (STEAM) camp for middle school students that seeks to encourage a lifelong interest in STEAM subjects. In addition, the company was the primary sponsor of Penn State Behrend's STEAM Fair in February and provided funding to purchase a "Tech on the Go" mobile unit that allows the college's Youth Education Outreach to take STEAM programming to K–12 classes that cannot visit campus. They have also supported engineering design coursework at the college, as well as Project RESOLVE, an initiative that works to accelerate the adoption of more sustainable models and methods in regional manufacturing industry strongholds.
"It is gratifying to see how the generous support from Wabtec impacts our programs, and also gratifying to see the reciprocal nature of that relationship in action," said Penn State Interim Senior Vice President for Research Andrew Read. "For example, through sponsored research projects, Penn State's researchers were able to develop cutting-edge sensors that enable Wabtec's locomotives to perform optimally and safely throughout their entire lifetime. Similarly, Penn State educators are helping to strengthen Wabtec's own workforce through our professional development offerings. This is a true partnership in every sense of the word."
Wabtec has elected to utilize World Campus and the Engineering Leadership Development Program for the continued professional development of their workforce. The company is an Education Alliance Partner of World Campus, and 238 employees to date have enrolled in online programs, generating nearly $710,000 for World Campus. Wabtec is also a career destination for Penn Staters, with nearly 350 alumni employed at the company.
"Our long-standing relationship with Penn State affords us access to a world-class research institution, the next generation of innovators, and opportunities to collaborate on industry solutions," said Wabtec's Vice President of Engineering Alan Hamilton. "The partnership results in rewarding experiences for both our employees and Penn Staters. It also benefits the communities that Wabtec and Penn State call home."
Previous Penn State Corporate Partners of the Year include Corning, the GIANT Company, Erie Insurance, Ernst & Young, Schlumberger, AB Volvo, United Technologies Corp., General Electric, Chevron, Toshiba/Westinghouse, Dow Chemical, Boeing, Highmark, PNC, Barnes and Noble, Lockheed Martin and Bank of America.
Partners like Wabtec advance the University's historic land-grant mission to serve and lead. Through philanthropy, alumni and friends are helping students to join the Penn State family and prepare for lifelong success; driving research, outreach and economic development that grow our shared strength and readiness for the future; and increasing the University's impact for families, patients, and communities across the commonwealth and around the world. Learn more by visiting raise.psu.edu.