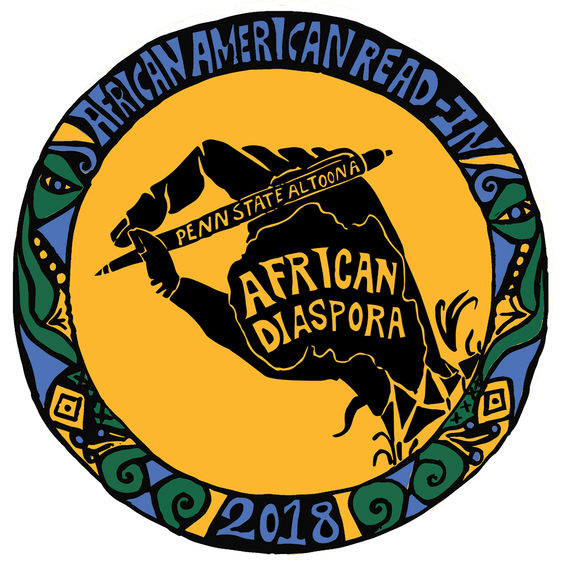 ALTOONA – The 29th annual African American Read-In Chain will take place at Penn State Altoona February 11–12, 2018. This year's theme is African Diaspora Writers in the U.S. Contemporary African authors living and writing in the United States have introduced different voices and dialogues into the larger American experience in their poetry, fiction, memoirs, and dramatic texts. Being African and American at the same time, these writers have a stake in the wellbeing of their homelands, and their hearts are still connected to Africa.
Events begin Sunday, February 11 at 2:30 p.m. in the Port-Sky Café with a community gathering featuring literature and a special program component for children ages 5-13. A dinner will also be served. Attendees are invited to share a short reading from a work by an African American author or just listen and enjoy. Update: this event is now full. If you have a reservation and will not be attending, please notify us so we can offer your seat to someone on the waiting list.
The Read-In Chain continues Monday, February 12 with "Monday Marathon," an open mic read-In held in the Misciagna Family Center for Performing Arts. From 9:00 a.m. – 5:00 p.m., various presentations, readings, and performances will take place to celebrate African-American authors and artists. The Penn State Altoona and Blair County communities are invited to drop in any time throughout the day to participate or listen and enjoy.
From noon – 1:00 p.m. the keynote presentation "Writing the World: The Poetry of African Women in the Diaspora" by Gabeba Baderoon will take place in Misciagna.
Baderoon is the author of Regarding Muslims: from Slavery to Post-apartheid, awarded the 2017 Best Non-fiction Monograph Award from the National Institute for the Humanities and Social Sciences, as well as the poetry collections The Dream in the Next Body, The Museum of Ordinary Life and A Hundred Silences. She received the Daimler Award for South African Poetry and is a Fellow of the Stellenbosch Institute for Advanced Study.
Baderoon is a member of the editorial board of the African Poetry Book Fund and an Extraordinary Professor of English at Stellenbosch University. She teaches Women's, Gender and Sexuality Studies and African Studies at University Park, where she co-directs the African Feminist Initiative with Alicia Decker.
At 5:30 p.m., Tsitsi Jaji, featured author of the 2018 African American Read-In at Penn State Altoona, will give a reading of her works in the Titelman Study of Misciagna.
Jaji's poetry collection, Beating the Graves, was published in 2017 after receiving an honorable mention for the 2015 Sillerman Prize. Her chapbook, Carnaval, appeared in the first New Generation African Poets box set, and her poems can also be found in in Bitter Oleander, Prairie Schooner, Black Renaissance Noire, Madison Review, and ElevenEleven. Her scholarly book, Africa in Stereo: Music, Modernism and Pan-African Solidarity, received the African Literature Association's First Book Award. She has given readings at the Library of Congress, United Nations, and Poetry Foundation in Chicago, and taught workshops in her home country, Zimbabwe.
Jaji works as an associate professor of English and African & African American Studies at Duke University. She is currently a fellow at the National Humanities Center, and has previously held fellowships at the Schomburg Center (NEH), Radcliffe Institute at Harvard, and at the Society for the Humanities at Cornell (Mellon).
The poetry reading will be followed by a book signing.
If you'd like to sign up to read, perform, or have questions about the Monday Marathon, contact Megan Simpson at [email protected].
All events are free and open to the public and sponsored by the African American Read-In at Penn State Altoona.