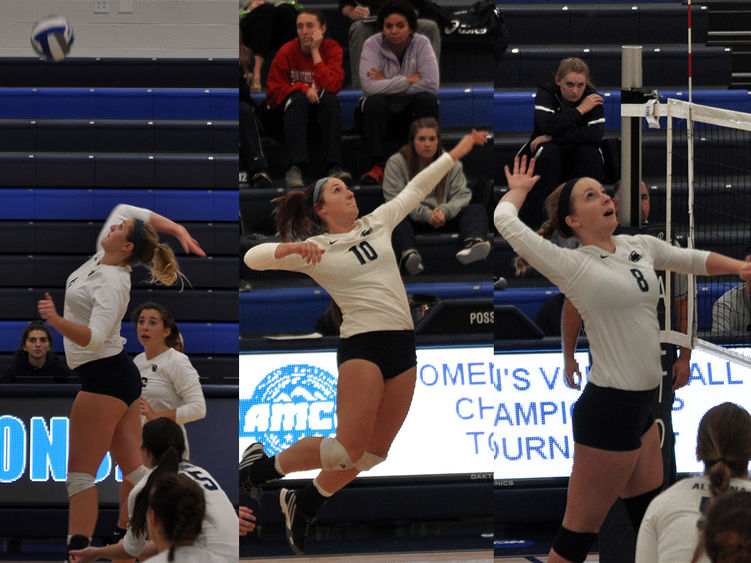 Men's Soccer
Senior forward/midfielder Seth Murrelle (Sayre, PA/Sayre) was selected to the third team of the All-Allegheny Mountain Collegiate Conference team. Murrelle led the men's soccer team in points, goals, shots, shots on goal, and game-winning goals this fall. He started all 17 games, and in the AMCC, he ranked 14th in goals scored (7), 15th in points (15), 17th in shots on goal (19), and 19th in total shots attempted (35). Murrelle was also 10th in the conference in game-winning goals (2).
Men's Swimming
Salisbury University 195, Penn State Altoona 63
Sophomore Tanner Yaw (Palmyra, PA/Palmyra) earned a first place finish in the 50 Yard Butterfly against Salisbury, finishing in 25.40 to score nine points.
Women's Soccer
Senior forward Shoshana Mahoney (Sweet Valley, PA/Lake-Lehman) was voted to the first team of the AMCC's All-Conference squad. Mahoney set career-highs this past season in goals, points, and shots. Starting all 17 games, she ranked second in the AMCC in shots on goal (43), third in goals scored (16), points (34), and total shots attempted (83), and fourth in game-winning goals (3). Mahoney also recorded two assists.
Women's Swimming
Salisbury University 193, Penn State Altoona 59
Sophomores Emily Booz (Berwyn, PA/Conestoga) and Emily Beam (Tyrone, PA/Tyrone) and freshman Hannah Kimmick (Youngwood, PA/Hempfield) each recorded two individual second place finishes for the Lady Lions against Salisbury.
Women's Volleyball
Westminster College 3, Penn State Altoona 0 (ECAC DIII Tournament, First Round)
Sophomore outside hitter Lauren Diller (Chambersburg, PA/Chambersburg) was voted to the first team of the AMCC All-Conference team, junior outside hitter Kelsey Bristol (Troy, PA/Troy) was a second team All-AMCC selection, and sophomore middle blocker Josie Stovall (Palmyra, PA/Palmyra) was a third team All-Conference pick. Diller ranked fourth in the AMCC in kills (263) and fifth in points (301.0), Bristol was seventh in the conference in kills per set (2.45) and eighth in points per set (3.55), and Stovall was eighth in the AMCC in hitting percentage (.227) and ninth in solo blocks (16).