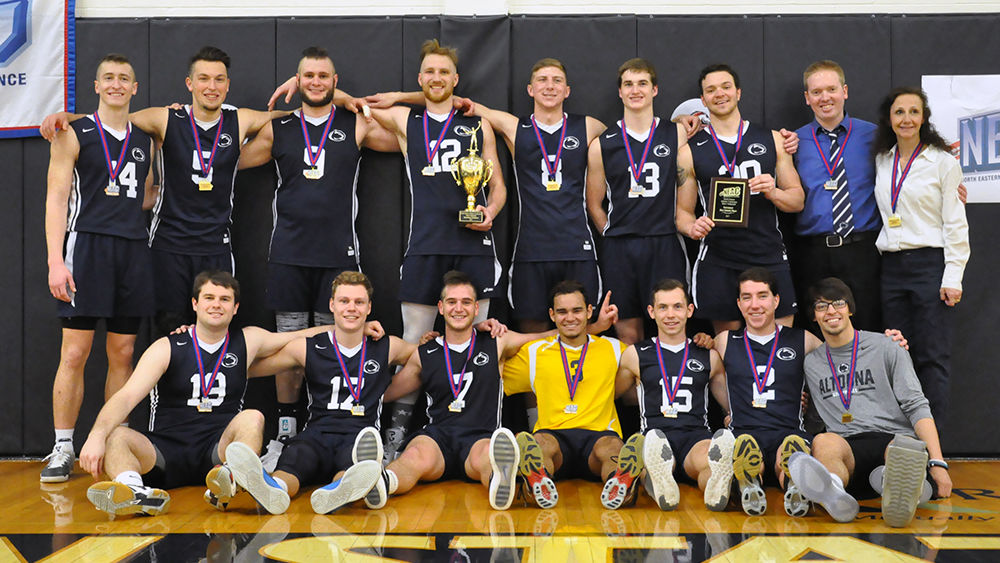 ALTOONA, Pa. — Penn State Altoona men's volleyball won its first-ever North Eastern Athletic Conference championship on Saturday afternoon (April 15), defeating Wells College 3-1 in the Adler Gym.
With the win, the Lions (26-6, 15-1 NEAC) earn an automatic bid in the NCAA Division III tournament, which will be held April 28-30 in Springfield, Massachusetts. The team will learn its seed in the bracket and its opponent on Monday morning (April 17), when the NCAA announces its national tournament selection.
Penn State Altoona, the top seed in the NEAC tournament, won the first two sets by scores of 25-18 and 25-13. After third-seeded Wells (19-13, 11-5 NEAC) responded with a 25-16 victory in the third set, the Lions were able to grind out a 25-23 win in the fourth set to win the conference title.
Senior outside hitter Jacob Byers (Level Green, Pennsylvania/Penn Trafford) was selected the NEAC tournament's MVP. In two tournament matches, Byers totaled 26 kills, averaging 3.25 kills per set.
In Saturday's match, Byers tied his season-high in kills with 19, leading all players on the day. He added four digs, one solo block, and one block assist.
Bradley Colditz (Upper St. Clair, Pennsylvania/Upper St. Clair) added 12 kills and a season-best 12 digs. Justin Bannister (Willow Hill, Pennsylvania/Fannett-Metal) posted seven kills, eight digs, three solo blocks, and two block assists. Daniel Downs (Reading, Pennsylvania/Daniel Boone) contributed five kills, two solo blocks, and three block assists, and Brandon Arentz (Mount Wolf, Pennsylvania/Northeastern) had five kills, nine digs, and two block assists.
Billy Smith (Pittsburgh, Pennsylvania/Upper St. Clair) led the team in assists with 20, and he also finished with seven digs. Tommy Kisick (Latrobe, Pennsylvania/Greater Latrobe) added 18 assists to go along with five digs, one solo block, and one block assist.
Waldemar Rivera-Berrios (Toa Alta, Puerto Rico/Samuel Clemens) led the Lions with 14 digs.
Penn State Altoona trailed 6-5 in the first set before making a big run to secure a significant lead. The Lions embarked on a 12-2 run that included four kills and one solo block from Byers to stake out a 17-8 lead. Kills from Colditz and Byers kept the difference at nine points, 22-13. Within the next several points, Wells committed a pair of service errors, and Kisick and Downs combined for the set-winning block.
The Lions won the second set by an even larger margin, at one point reeling off 10 points in a row to go up 21-8. Two kills from Byers late in the set put the finishing touches on Altoona's 2-0 lead.
Wells had its best performance of the day in the third set. Tied 13-13, the Express got back-to-back kills from Mike Hartman to go ahead on the scoreboard. After a Bannister kill, Wells scored five consecutive points, including three service aces from Caden O'Loughlin, to make it 20-14. Kills from Ryan Turner and Brannon Perdicho accounted for Wells' final two points of the set.
In the fourth, Wells continued to ride the momentum from its third-set victory, but Altoona battled to maintain a late lead. With the score tied 19-19, the Lions used a kill from Arentz and a Wells attack error to go ahead 21-19. Two Byers kills and another Express attack error made it 24-21. Wells used a kill from O'Loughlin and a Penn State Altoona attack error to narrow the home team's lead to 24-23, but Byers' kill clinched the set win and the championship for the Lions.
Penn State Altoona has been a member of the NEAC in men's volleyball since the 2015 season. This season, in just its fifth year as a varsity sport at the campus, the Lions have set program records for overall wins (26) and conference wins (15). Earlier this season, the men's volleyball team secured its first-ever Allegheny Mountain Collegiate Conference title by going 8-0 in that league, and the Lions clinched the NEAC regular-season championship.