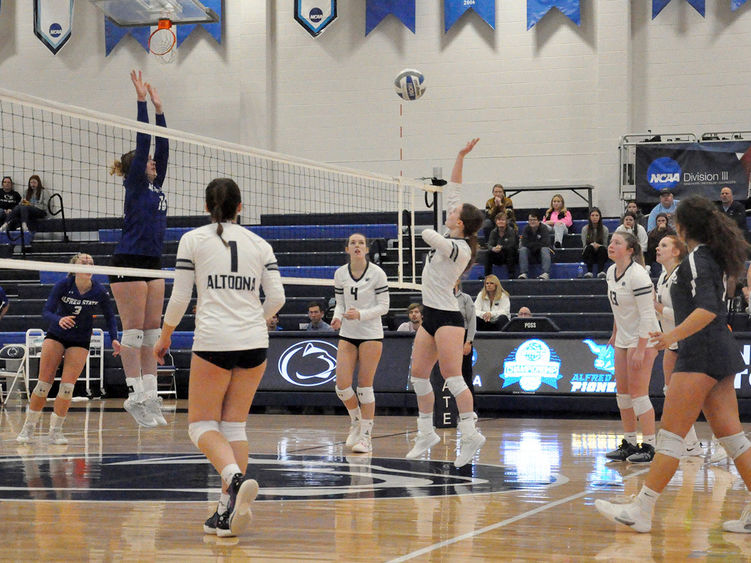 ALTOONA, Pa. — The Penn State Altoona women's volleyball team won its third Allegheny Mountain Collegiate Conference (AMCC) title in program history on Sunday, Nov. 12, when the top-seeded Lions defeated No. 3 seed Alfred State College 3-1 in Adler Arena.
With its win, Penn State Altoona (16-10) receives the AMCC's automatic berth to compete in the NCAA Division III Tournament later this week. Penn State Altoona will face Juniata, the top-ranked team in the nation among Division III women's volleyball programs, in the first round of the Huntingdon Region bracket at 7 p.m. Thursday, Nov. 16. The winner of that match will advance to the regional semifinal at 7 p.m. Friday, Nov. 17.
The championship win is the third-ever for the Penn State Altoona women's volleyball team, which last won the conference title in 2011. It also marks the first time since 2017 that a Penn State Altoona NCAA team has won a conference championship on campus.
Just as it did in Saturday's semifinal match, Penn State Altoona found itself in an early hole on Sunday, when Alfred State (18-9) pulled out a 25-23 win in the opening set. But the Lions regrouped for a strong 25-17 victory in the second set, then prevailed in the third and fourth sets by scores of 25-22 and 25-18, respectively.
Makenna Port, of Bellefonte, led Penn State Altoona in the match with 15.5 points on 14 kills and three block assists. Lia Simanski, of Altoona, tallied 14.5 points on 12 kills, two service aces, and a block assist while adding 17 digs.
Taylor Myers, of Morrisdale, recorded 14 points on 11 kills, two aces, and two block assists. Karlie Feathers, of Bellwood, posted 11.5 points on nine kills and three block assists, and Lacee Barnhart, of Bellefonte, earned nine points on seven kills and two aces to go along with 17 digs.
Julia Emel, of Woodward, registered 40 assists while also recording 16 digs, an ace, and a kill.
Anna Batrus, of Altoona, led all players in the match in digs with 26. Abigail Brinker, of Lock Haven, chipped in nine digs, and Morgan Fussell, of Blairsville, Georgia, had one block assist.
After the match, Barnhart and Port were both named to the AMCC all-tournament team for their performances during the conference postseason.
In the first set, Penn State Altoona fell behind in the middle stages, as Alfred State worked its way out to an eight-point lead, 16-8. The Lions fought back to take the lead, 19-18, following an 11-2 run that included two kills apiece from Feathers and Port. After two Alfred State points, a Pioneers service error and Barnhart killed put the Lions back in front, 21-20. But the visitors bounced back with three straight points, then used two kills to win the opening set, 25-23.
Penn State Altoona responded by winning the second set in convincing fashion. After yielding the first point to Alfred State, the Lions scored four straight points, including two kills from Feathers and a duo block by Feathers and Myers. Back-to-back kills from Simanski made it 7-3, and kills by Port, Barnhart, Feathers and Myers helped increase Penn State Altoona's advantage to 17-9. The Lions held a comfortable lead the rest of the way and ended the set at 25-17 on a kill by Feathers, evening the match score at 1-1.
Down 5-3 early in the third set, Penn State Altoona went on a 5-0 run that included two Port kills, one Simanski kill, and a Feathers ace to go up 8-5. A kill and ace from Myers midway through the set kept her team's lead at three, 14-11. Alfred State chipped away at its deficit over the next several points and took a 17-16 lead, but a Port kill and Batrus ace put the Lions back in front, 18-17, and Penn State Altoona never trailed the rest of the set. A Barnhart ace and kills from Simanski and Port helped the Lions get to set point, 24-21, and a Simanski kill represented the set-winning point for Penn State Altoona, which took a 2-1 lead in the match with a 25-22 set victory.
In the fourth set, the teams battled closely for much of the set, but Penn State Altoona pulled away late to secure the championship, helped by compiling a .349 attack percentage during the set. Trailing 9-8, two kills by Myers and one from Feathers gave Penn State Altoona an 11-9 lead. Kills on consecutive points by Port and Simanski made it 14-11, and a Barnhart kill set the Lions' lead at 17-13. Two Myers kills preceded a duo block from Myers and Feathers that made it 20-14, and Penn State Altoona boosted its lead to 23-16 after a kill from Simanski and a kill and ace from Barnhart. Simanski's kill got the Lions to set point, and Port put down the match-sealing kill to cap the set at 25-18 and give the home team a conference championship.