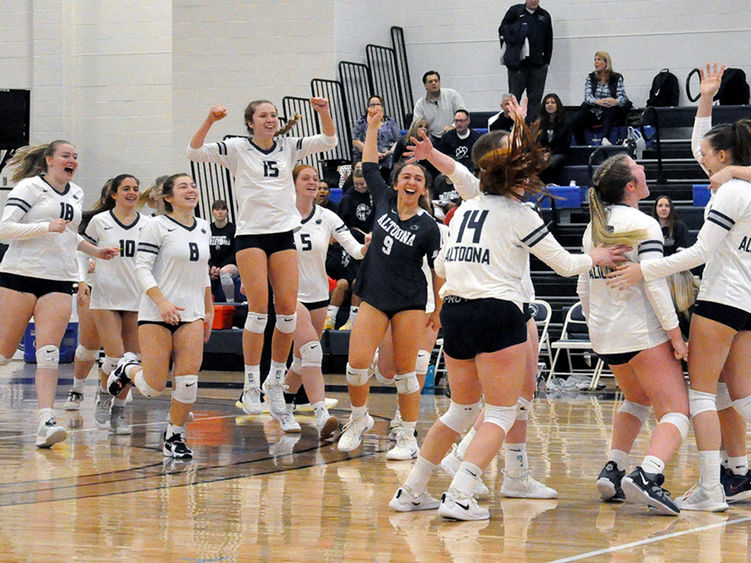 ALTOONA, Pa. — The Penn State Altoona women's volleyball learned on Monday, Nov. 13, that it will face No. 1 Juniata College in the first round of the NCAA Division III Tournament this week.
Penn State Altoona will face Juniata, the top-ranked team in the nation among Division III women's volleyball programs, in the first round of the Huntingdon Region bracket at 7 p.m. Thursday, Nov. 16. The winner of that match will advance to the regional semifinal at 7 p.m. Friday, Nov. 17.
Penn State Altoona is 16-10 overall this season, including an 8-1 record within the Allegheny Mountain Collegiate Conference that gave the Lions the league's regular season championship. As the top seed in the conference tournament, Penn State Altoona received a first-round bye, then defeated La Roche University and Alfred State College to claim the program's third-ever AMCC title and first since 2011. Thursday's match marks the Lions' third NCAA postseason appearance.
Juniata holds a spotless 29-0 record this season, surrendering just five sets throughout the fall. In the Landmark Conference tournament, the Eagles posted victories over Susquehanna University and the University of Scranton to win their 16th consecutive conference championship and 42nd conference title in team history.
All of this week's matches in the Huntingdon Region will be played at Juniata's Kennedy Sports and Recreation Center. Single-day tickets will be $10 for adults, $8 for senior citizens and veterans, $8 for students with IDs, and $5 for children age 12 and under. Children age 2 and under will have free admission.