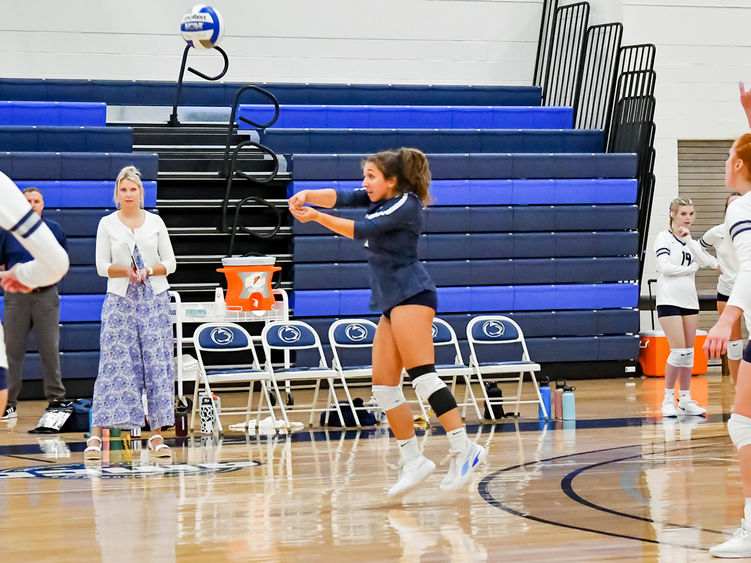 NORTH BOSTON, N.Y. — Penn State Altoona women's volleyball's libero Anna Batrus, of Altoona, was announced as the Allegheny Mountain Collegiate Conference's Defensive Player of the Week on Monday, Nov. 6, making it the league-high sixth time that she has garnered that recognition this season.
Batrus totaled a team-high 72 digs in three wins for the Penn State Altoona women's volleyball team last week, averaging 6.0 digs per set. Her performance helped the Lions clinch the top seed in the upcoming AMCC Tournament.
In last Tuesday night's 3-1 win on the road against AMCC opponent La Roche University, Batrus led all players in the match with 27 digs. In Saturday afternoon's 3-0 victory at AMCC foe Wells College, she recorded 13 digs. She followed that up by tallying a career-high 32 digs in the Lions' 3-2 win against non-conference opponent Alfred University later that day.
Batrus currently leads the AMCC this season in digs per set (5.51) while being second in total digs (479).
Penn State Altoona women's volleyball is 14-10 overall this season, including an 8-1 mark in the AMCC that gave the Lions the No. 1 seed in the AMCC Tournament. Penn State Altoona will host the semifinal and championship matches of the conference tournament this Saturday, Nov. 11, and Sunday, Nov. 12.
Penn State Altoona will take on the winner of Wednesday night's match between Wells and La Roche at 2 p.m. on Saturday, Nov. 11.