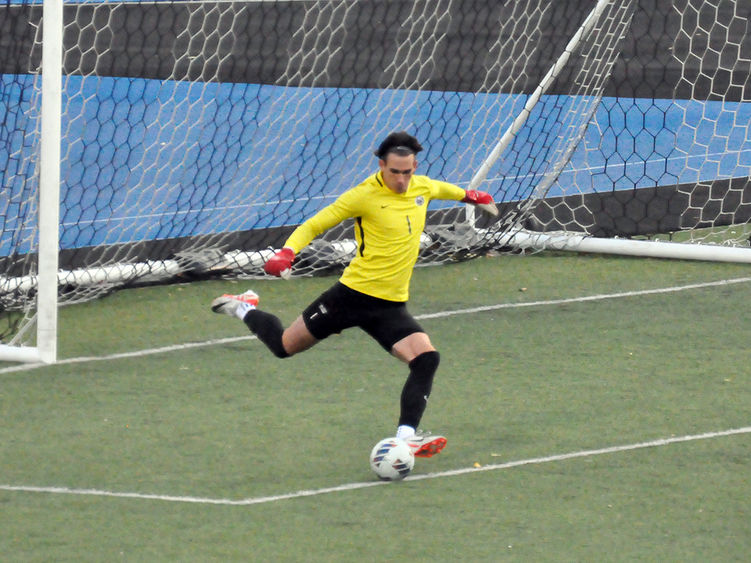 NORTH BOSTON, N.Y. — Penn State Altoona goalkeeper Sasha Mohoruk, of State College, was chosen as the Allegheny Mountain Collegiate Conference's (AMCC) Defensive Player of the Week in men's soccer on Monday, Oct. 23.
Mohoruk put up five scoreless periods of play between the pipes for the Lions last week, including posting a pair of AMCC shutouts.
In last Monday night's 1-0 loss at home to non-conference opponent Waynesburg University, Mohoruk got the start and played a spotless first half. He continued his perfect week in a 2-0 win on the road against AMCC foe Carlow University on Wednesday night, when he made four saves to notch the win and the shutout. Mohoruk capped his week with a 1-0 shutout victory over conference opponent Pitt-Bradford at home on Saturday afternoon, when he made three stops to preserve his team's whitewash.
On the week, Mohoruk went 2-0 with two shutouts, holding his opponents scoreless in 225:00 spent in goal. He recorded seven saves for a perfect 1.000 save percentage.
Mohoruk currently leads the AMCC this season in save percentage (.857) and shutouts (6) while ranking third in wins (7) and fourth in goals-against average (0.80).
This is Mohoruk's second AMCC Defensive Player of the Week award of the season.
Penn State Altoona men's soccer is 7-4-1 overall, including a 6-2 record within the AMCC. The Lions finish their regular season schedule at home on Tuesday, Oct. 24, hosting nearby conference rival Mount Aloysius College at 7 p.m.