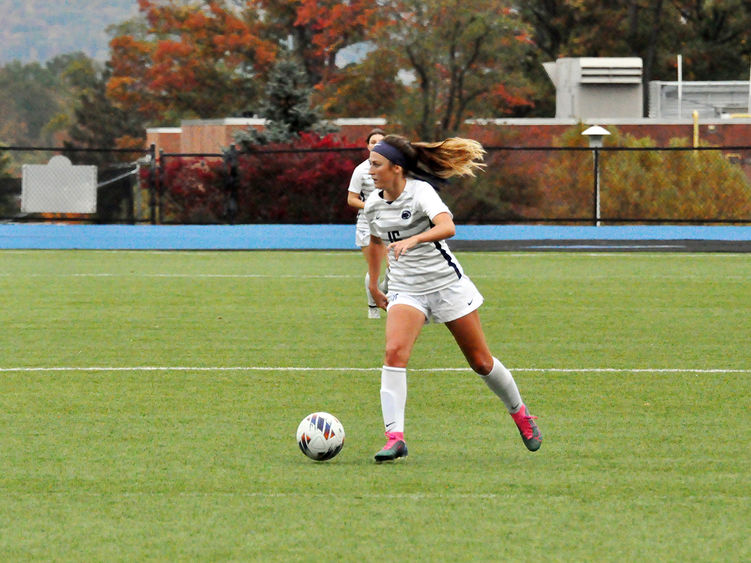 NORTH BOSTON, N.Y. — Penn State Altoona forward/midfielder Mallorie Smith, of Bellefonte, was selected as the Allegheny Mountain Collegiate Conference's (AMCC) Offensive Player of the Week in women's soccer on Monday, Oct. 23.
Smith spearheaded Penn State Altoona's attack in wins over AMCC opponents Carlow University and Pitt-Bradford last week. The Lions' victories clinched an AMCC postseason berth for the team.
In last Wednesday afternoon's 3-1 win at home over Carlow, Smith scored two goals and put four shots on goal in 11 attempts. On Saturday afternoon, in a 5-0 home win over Pitt-Bradford, she recorded one goal and one assist while taking eight shots, putting six on target.
On the week, Smith scored three goals and registered one assist for a total of seven points. She pulled the trigger on 19 shots, putting 10 on goal.
Among all AMCC players this season, Smith currently ranks first in the conference in shots on goal (43) and shots attempted (64) while being second in goals scored (13) and third in points (28).
This is Smith's second AMCC Offensive Player of the Week award this season.
Penn State Altoona women's soccer is 4-9-2 overall, including a 4-3-1 mark in the AMCC. The Lions cap their regular season schedule on Tuesday, Oct. 24, with a road game at nearby conference rival Mount Aloysius College at 7 p.m.