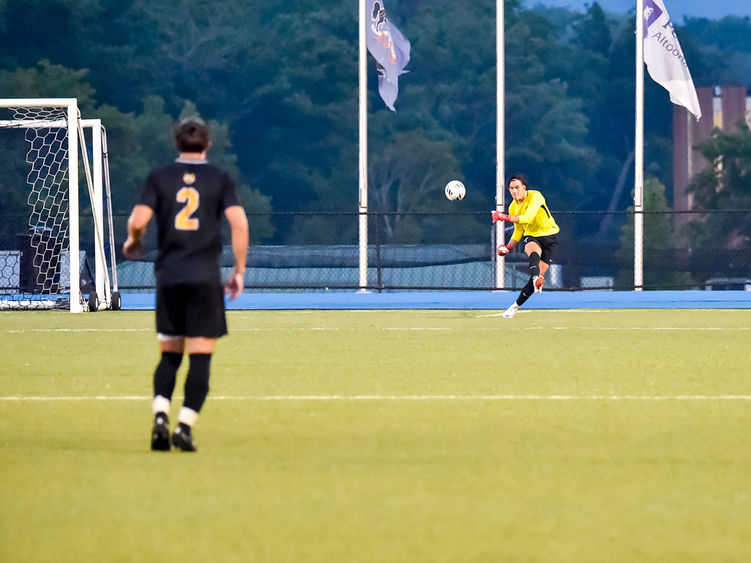 NORTH BOSTON, N.Y. — The Penn State Altoona men's soccer team posted a clean sweep of the Allegheny Mountain Collegiate Conference's weekly awards on Monday, Sept. 18, when forward/midfielder Luke Hall, of State College, was named the league's Offensive Player of the Week and goalkeeper Sasha Mohoruk, of State College, was tabbed as its Defensive Player of the Week.
Hall and Mohoruk both played key roles in Penn State Altoona's 2-1 win on the road over Washington & Jefferson College (W&J) this past Saturday afternoon, which was the Lions' first victory of the season.
Hall scored both of Penn State Altoona's goals in the win at W&J, which were his first two of the season. He finished the day with a game-high six shot attempts, including two shots on goal.
Mohoruk made 11 saves between the pipes to help Penn State Altoona hang on for the one-goal road win. He recorded seven of his 11 stops during the second half, and he clinched his first victory as a member of the Lions soccer team.
This is the first career AMCC Player of the Week selection for both Hall and Mohoruk.
Among all AMCC players, Hall is currently tied for seventh in the conference in goals scored (2). Meanwhile, Mohoruk is third in the AMCC in save percentage (.808) and tied for eighth in saves (21).
Penn State Altoona men's soccer is 1-1-1 overall. The Lions begin AMCC play for their next game, when the team hosts first-year conference foe Wells College this Saturday, Sept. 23, at 4:15 p.m.