Student-athletes Luke Hall and Owen Myers named as 'players to watch'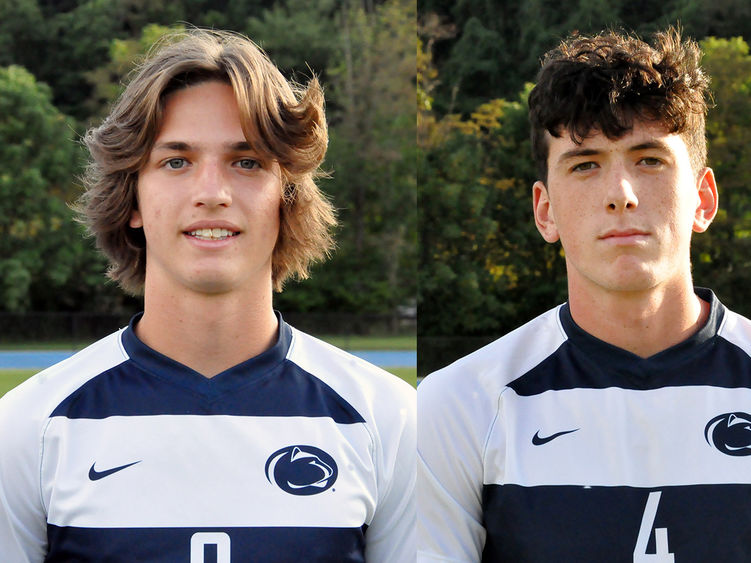 NORTH BOSTON, N.Y. — The Allegheny Mountain Collegiate Conference released its 2023 men's soccer preseason coaches' poll on Aug. 21, including the Penn State Altoona men's soccer team being voted into fifth place out of 10 spots.
Penn State Behrend was predicted to finish atop the league standings this season, with defending back-to-back champion Mount Aloysius College being selected second in the poll. Pitt-Greensburg rounded out the top three places.
Penn State Altoona went 4-10-1 overall last season, including a 2-4-1 record in the AMCC. The Lions placed fifth in the conference standings by the conclusion of the regular season, earning a berth to compete in the AMCC Tournament.
Named as "Players to Watch" for the Lions this season in the poll are returning forward/midfielder Luke Hall of State College and defender Owen Myers of Spring Grove.
Hall scored a team-high five goals for the Lions last season while playing in 14 games, including 12 starts. He recorded 27 shot attempts, with 19 coming as shots on goal.
Myers started 14 games last fall. He scored one goal, attempted 11 shots, and put eight shots on goal.
Penn State Altoona men's soccer starts its season at home on Saturday, Sept. 2, against Westminster College. The start time for that contest is slated for 1:30 p.m.