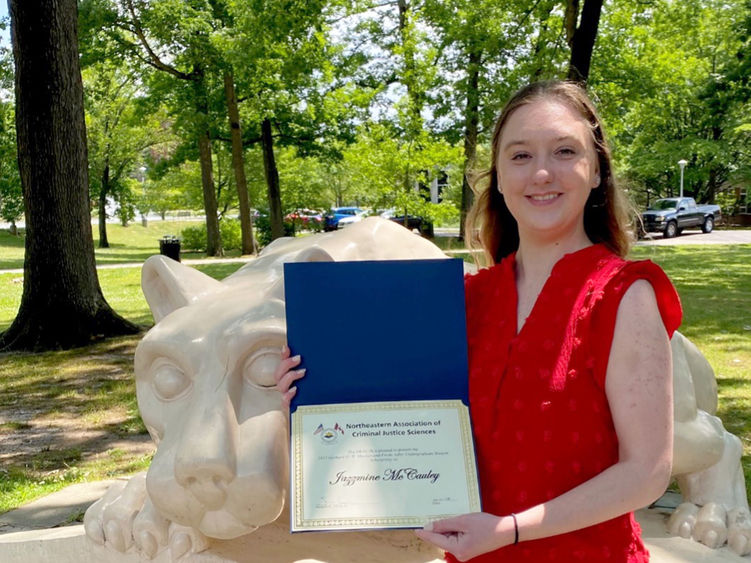 ALTOONA, Pa. — Penn State Altoona student Jazzmine McCauley was presented with the "Gerhard O. W. Mueller and Freda Adler Undergraduate Student Scholarship" at the annual meeting for the Northeastern Association of Criminal Justice Sciences (NEACJS) held in Williamsport, Pennsylvania, earlier this month.
The award, named after two of the most distinguished professors in the discipline, is presented annually to an undergraduate student pursuing a degree in criminal justice or criminology. Nominees must have a cumulative grade point average above 3.5 and must have made a significant contribution to the field outside of the classroom.
McCauley was nominated for the award by Nathan E. Kruis, assistant professor of criminal justice at Penn State Altoona and co-director of the Integrated Social Science Research Lab (ISSRL). "Jazzmine has been a member of the research lab for about three years now," said Kruis. "In addition to her stellar classroom performance, Jazzmine has completed a number of research projects in the lab, and she has won numerous awards. I think this experience really helped to distinguish her application from other students."
NEACJS awards committee members remarked that McCauley's application materials were "extraordinary." They were particularly impressed with her publication record and the number of conference presentations she has given as an undergraduate student. To date, McCauley has given 11 professional presentations and has made three scholarly contributions to the discipline, including a peer-reviewed article. Additionally, she serves as the president of both the Criminal Justice Organization and Alpha Phi Sigma criminal justice honor society at Penn State Altoona.
"She has the full package," remarked Nicholas J. Rowland, professor of sociology and co-director of the ISSRL. "There is no one more deserving of this award than Jazzmine. We couldn't be more proud of her."
"I feel honored to have been selected as a recipient of this scholarship," commented McCauley. "I've been passionate about criminal justice research since becoming a student research partner in the ISSRL my first year at Penn State Altoona. I am grateful that my research is being shared and making an impact within the criminal justice community on such a broad scale."
McCauley is entering her final year at Penn State Altoona. She recently took the LSAT and plans on attending law school following graduation. But first she will complete an internship with Blair County Court of Common Pleas Judge Jackie Bernard during the fall 2023 semester.
"I'm really looking forward to gaining a deeper understanding of the law and having Judge Bernard as a mentor. She is a great judge and a great person; I know I will learn a lot from her," noted McCauley. "I am so grateful for all the opportunities I have been given as a student at Penn State Altoona. I could have never imagined my college experience being like this. It has been so rewarding."