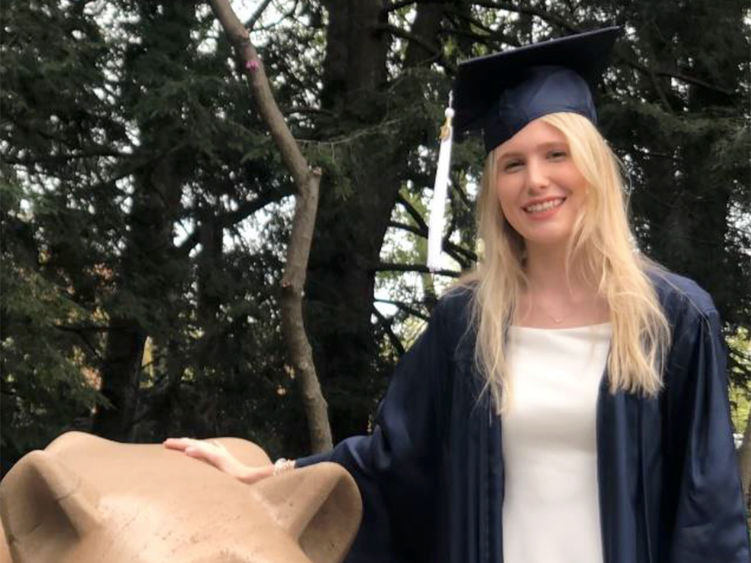 ALTOONA, Pa. — The Morris family has stepped forward with a gift to create the We Are United Endowment Fund in Honor of Falon Marie Morris at Penn State Altoona.
"Falon was a lovely young woman who had a way of making everyone around her feel special," said her mother, Shannon Morris. "She had a pure light about her, and she spread joy to others with her big, beautiful smile and sense of humor. She was taken from us much too soon in a car accident on Dec. 16, 2020, one week before her 25th birthday. She would want us to continue to support others in her honor through acts of kindness."
Falon grew up in the Hollidaysburg area, the oldest daughter of Greg and Shannon Morris and the sibling of Sophira, Greyson and Grier Morris. She attended both Penn State Altoona and University Park and graduated in 2019 with a degree in English. She was a founding member of the University Park chapter of Delta Phi Epsilon, a sorority guided by the values of leadership, sisterhood, scholarship and service.
"Falon Marie was a wonderfully kind, generous soul," said Penn State Altoona Chancellor Ron Darbeau. "Her legacy of goodness lives on in this gift. We are grateful for this endowment, which allows us to better support our students' wellness, mental health and balance as well as provide programs for reducing and handling stress."
The gift will benefit the Division of Student Affairs at Penn State Altoona by providing a source of funds to support wellness and mindfulness opportunities for students.
"This endowment will have a tremendous impact on our campus community," said Sue Patterson, director of the Office of Student Diversity and Inclusion Programming. "It will help us to see humanity in others and ourselves and become kinder, more welcoming and more accepting of the different needs and experiences of one another. It is another chance to truly notice and respond in a caring way."
Falon's family and friends said she enjoyed reading and writing and had a gift for expressing her feelings and translating them into the written word. They described her as appreciative of the simple things in life and always kind and empathetic to others.
"We hope that this fund in her honor will support events and activities which help bring an awareness that we are united regardless of our differences or beliefs," Shannon Morris said. "We need to do our best to come together in peace and love and learn to show appreciation for one another to make our world a kinder place. In honor of Falon and all our loved ones, let's be better humans."
Gifts like the We Are United Endowment Fund in Honor of Falon Marie Morris advance the University's historic land-grant mission to serve and lead. Through philanthropy, alumni and friends are helping students to join the Penn State family and prepare for lifelong success; driving research, outreach and economic development that grow our shared strength and readiness for the future; and increasing the University's impact for families, patients, and communities across the Commonwealth and around the world. Learn more by visiting raise.psu.edu.