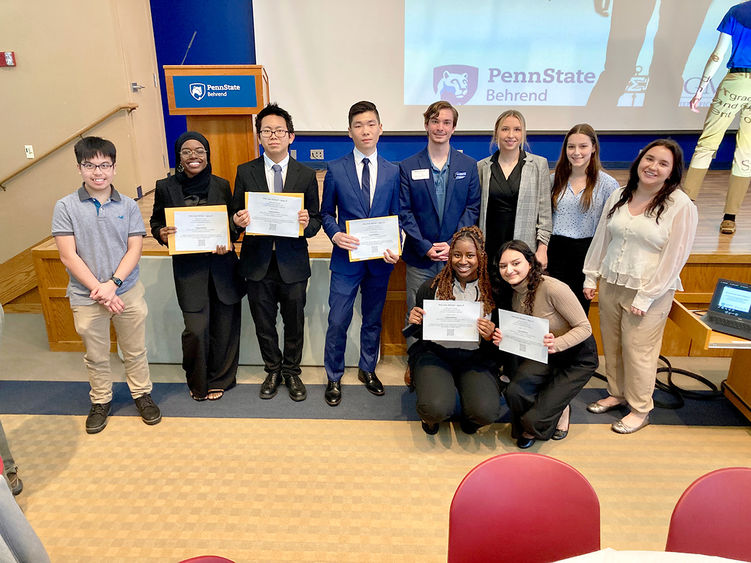 ERIE, Pa. — Students from Penn State Altoona's Integrated Social Science Research Lab traveled to Erie on Saturday, April 22, to compete in a research fair hosted by Penn State Behrend and co-sponsored by Sigma Xi, a scientific research honor society.
Makaylah Bangura and Yursa Haroon won first place among social science posters at the conference for their project, "Examining the Effects of Procedural Justice and Utilitarian Assessments of Police on Racial Differences in Legitimacy Assessments," which was created collaboratively with their lab colleagues Deyana Dye, Woodnie Andre and Marianna Di Balsamo. The same project also won first place at Penn State Altoona's Undergraduate Research and Creative Activities Fair held on April 15.
Will Lin, Kai Watanabe and Shannette Wahor took second place in the social sciences for their research poster, "Perceptions of Medications for Opioid Use Disorder," which was created collaboratively with Di Balsamo.
In addition to the five research lab students who placed at the event, six more also competed, including Lacee Barnhart, Riley Fegley, Nicholas Glunt, Jazzmine McCauley, Mykala McGill and Lam Vo.
"Loading up the lab students in a college-issued, 15-passenger van is about way more than just competition at a conference," said Nathan Kruis, assistant professor of criminal justice. "It is also about community building through group travel and about celebrating our graduating students at their last college-level research fair."
"After a few tough years with COVID restrictions, the students are eager to participate in these events again, and I am, too," said Nicholas Rowland, professor of sociology, who co-runs the lab with Kruis. "We are grateful for Penn State's willingness to support students as they travel to conferences and share their research."
The work presented was generously funded by the Penn State Altoona Office of Research and Engagement. The Integrated Social Science Research Lab is made possible by Penn State Altoona's Division of Education, Human Development, and Social Science, headed by Leigh Ann Haefner, associate professor of science education, and is embedded in the Criminal Justice and Sociology programs coordinated by Mary Ann Probst and Karyn McKinney-Marvasti, respectively.