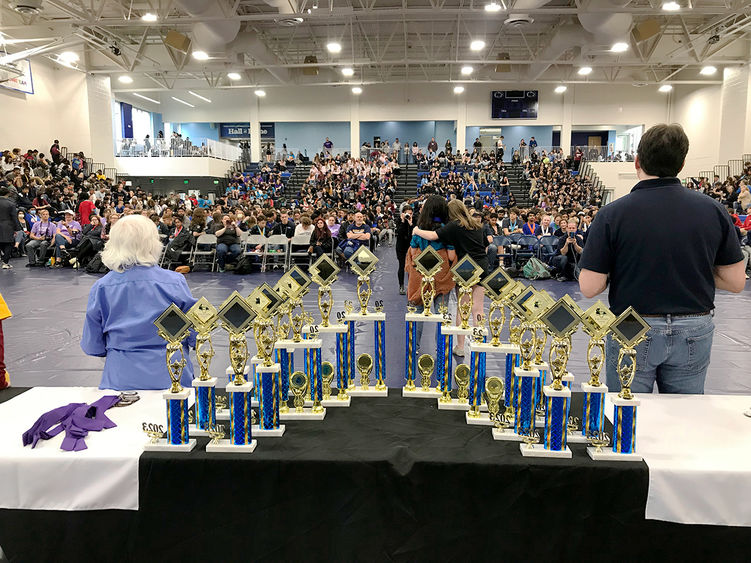 ALTOONA, Pa. — More than 1,000 middle and high school students from across the commonwealth gathered at Penn State Altoona for the 2023 Pennsylvania Science Olympiad held on April 22.
Science Olympiad is an international nonprofit organization devoted to improving the quality of science education, increasing student interest in science, and providing recognition for outstanding achievement in science education. These goals are accomplished through research, training workshops, and participation in intramural, district, regional, state, and national tournaments consisting of individual and team events, which students prepare for during the year.
In pairs, students competed in over 30 STEM-related events, such as engineering, where they built bridges, planes, vehicles, and rollercoasters to test. They also competed in laboratory events using scientific techniques to answer questions about chemistry, physics, and forensics, and events where they took tests to demonstrate their knowledge of a wide range of STEM topics, such as forestry, meteorology, rocks and minerals, and anatomy and physiology.
The tournament challenges and activities help prepare students to work as part of a team in a future STEM career.
"My favorite part of the day is the awards ceremony," said Dave Moyer, Pennsylvania Science Olympiad state director. "The energy in the room is fantastic. The students are so excited to win medals for their hard work. It is a lot of fun calling their school and hearing the cheers, and I find it refreshing that they cheer and applaud students from other schools. Penn State Altoona provided us with a wonderful facility to hold our state tournament. Everyone involved did a wonderful job in making this a very special event for the students."
Over 500 coaches, parents, and volunteers also attended the event. This is the second time Penn State Altoona has hosted the state tournament.