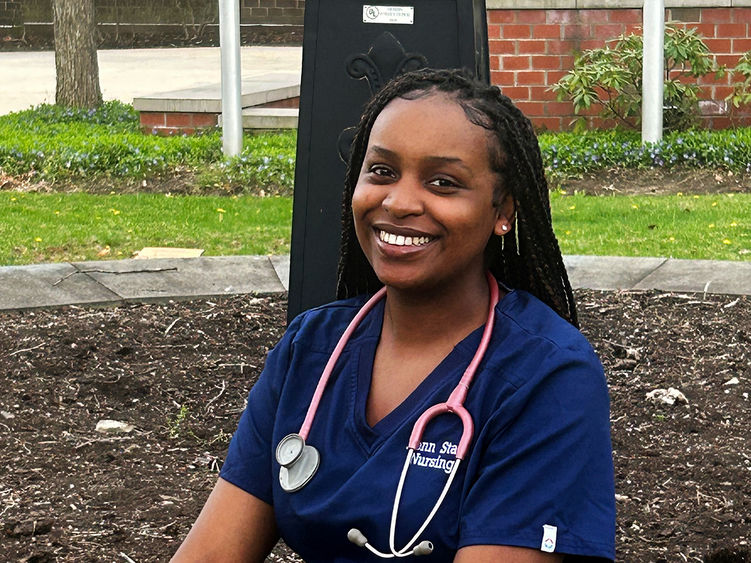 ALTOONA, Pa. — Deyana Dye, a Penn State Altoona nursing student and member of the college's Interdisciplinary Social Science Research Lab (ISSRL), was recently accepted to the University's Improving Access to Research and Training (IMPACT) program.
"I can't believe I got in," Dye said. "I put in the time and worked really hard on my application, and at the end of March I was notified that I was selected."
IMPACT is a federally funded program supported by the National Heart, Lung, and Blood Institute (NHLBI) of the National Institutes of Health (NIH) to increase the number of future doctoral-level scientists from underrepresented backgrounds who pursue research careers related to cardiovascular, pulmonary, hematologic, or sleep-disordered conditions.
The program supports students for eight full-time consecutive summer weeks of basic or clinical research opportunities with faculty mentors at Penn State who have active federal grants in NHLBI priority areas. At the end of the program, students present aspects of their research experiences to peers, mentors and experts from the scientific community, both at Penn State and in their home institutions.
Dye learned about the opportunity from Nicholas Rowland, professor of sociology and co-founder of the ISSRL, who circulated a call for applications at the end of 2022.
"He basically told us that if we wanted to apply, he would help us out," Dye said. "We talked through every aspect of the application, and he helped me articulate aspects of my future that I didn't even have words for at the time. The program itself is something special at Penn State."
Rowland emphatically agreed. "This is a big deal," he said. "I love seeing Penn State Altoona students rise to these sorts of University-wide opportunities. In moments like these, we can see the true promise and potential of the One Penn State vision."
"At least as impressive as the summer research experience awaiting Deyana is the fact the research team she is part of in the ISSRL recently competed at the Penn State Altoona Undergraduate Research and Creative Accomplishments Fair," said Nathan Kruis, assistant professor of criminal justice and co-founder of the ISSRL. "Their research poster placed in the Behavioral Sciences category and took home the Sustainability Award."
Dye presented the poster, "Examining the Effects of Procedural Justice and Utilitarian Assessments of Police on Racial Differences in Legitimacy Assessments," with lab colleagues Makaylah Bangura, Yursa Haroon, Woodnie Andre and Marianna Di Balsamo.
Kruis and Rowland both agree that the students in the lab work hard on everything inside and out of it, so it is no surprise that Dye was granted access to the sort of transformational summer research training program that is IMPACT.
Dye said she now plans to pursue a doctorate.
The five-year IMPACT program is funded by NIH Grant No. R25-HL147668 through the National Heart, Lung, and Blood Institute to the College of Health and Human Development and the College of Nursing at Penn State. Also, the work presented at the URCAF was generously funded by the Penn State Altoona Office of Research and Engagement.
The ISSRL and work produced by the lab is made possible by Penn State Altoona's Division of Education, Human Development, and Social Sciences, headed by Leigh Ann Haefner, associate professor of science education. It is embedded in the Criminal Justice and Sociology programs coordinated by Mary Ann Probst and Karyn McKinney-Marvasti, respectively.