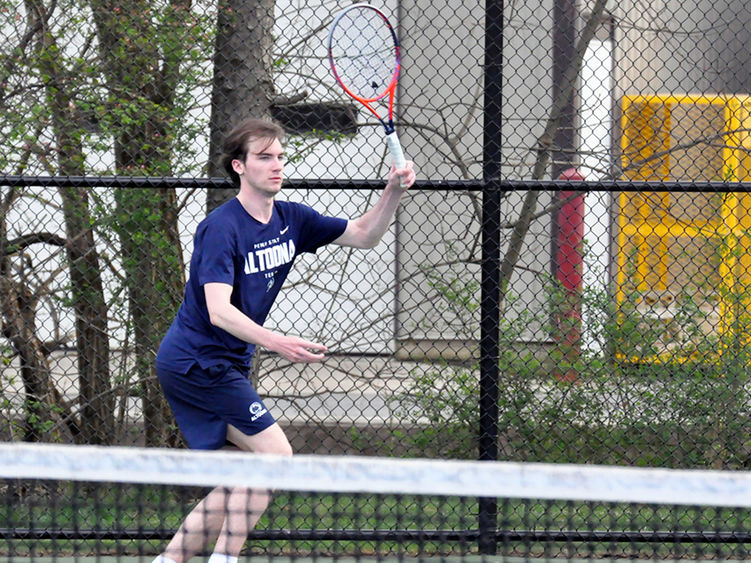 NORTH BOSTON, N.Y. — Penn State Altoona men's tennis student-athlete Emmett Hibbs, of Richfield, was named the Allegheny Mountain Collegiate Conference's Player of the Week on Monday, April 17.
Hibbs went 3-1 overall in both singles and doubles matches for the Lions last week, including being 3-0 in both against AMCC opponents. He also set a new Penn State Altoona men's tennis single-season record for doubles wins, establishing a new mark with his 12 overall doubles victories this season.
In Penn State Altoona's 9-0 home win over AMCC foe Pitt-Greensburg on April 12, Hibbs won 6-0, 6-2 in No. 3 singles while prevailing 8-5 in No. 2 doubles alongside teammate Ethan Schneider of Broad Top.
After losing in singles and doubles during the Lions' 8-1 loss at home to non-conference opponent Geneva College on April 14, Hibbs bounced back in the Lions' doubleheader sweep of AMCC opponent Mount Aloysius College on April 15, when his team posted a pair of 7-2 wins. In the first match, Hibbs defeated his opponent 6-3, 6-3 in the No. 4 singles match while earning an 8-6 victory in No. 3 doubles alongside Parth Raval of Mumbai, India. In the second match, Hibbs pulled out a 6-3, 2-6, 10-4 win in No. 4 singles to go along with another 8-6 triumph in No. 3 doubles with Raval.
Hibbs is 10-5 overall this season in singles matches, including a 6-2 mark against AMCC opponents and a 9-3 overall record in his primary position, the No. 4 spot. In doubles, Hibbs leads the Lions in overall wins with a 12-4 record, including being 7-1 versus AMCC opponents and 10-2 while playing in No. 3 doubles matches.
The Penn State Altoona men's tennis team is 12-4 overall this season, including a 6-2 record that clinched second place in the AMCC's regular season standings. The Lions' next match is Saturday, April 22, when Penn State Altoona will face Mount Aloysius College in the semifinal round of the AMCC postseason tournament in Erie.